Administrator Account
The Administrator feature is complimentary for Unique Learning System® group accounts, allowing supporting staff to manage faculty, monitor progress, and oversee implementation of Unique Learning System (ULS) in the organization.
Administrators and sub-administrators are provided read-only access to many areas of Unique Learning System, including the GPS Guides, Monthly Lessons, and Student Summary Reports in the GPS. This feature allows supporting staff to effectively monitor and support service providers with the materials and technological capabilities offered in ULS. Administrators do not have permission to print or save the materials that are presented but can open the Interactive Document (iDoc) versions.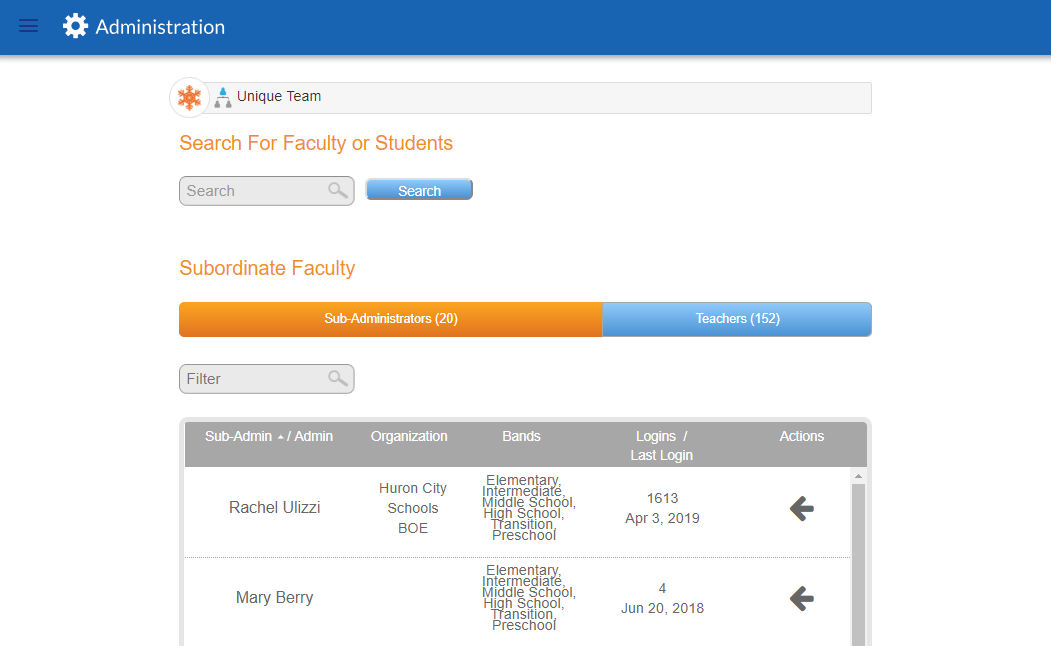 The following features are provided for Administrator accounts:
Faculty Management Tools - add, remove, and edit service providers in the account
Implementation Reports - login statistics, percentage completion reports on profiles, and assessments by service providers
Material Access - viewing capability of monthly lessons and GPS administration guides (administrators cannot print)
Reports - data collection for the pre- and post-assessments, benchmarks, and profiles taken by the students registered within the account
Sub-Administrator Access - a hierarchy tool to assign service providers to designated supporting staff for monitoring purposes based on group size
Admin. Support Tools - tools and materials to help with the accountability and implementation of n2y solutions in the organization
n2y Support Center - access to hundreds of knowledge articles, videos, support forums, and access to customer support, right within the account
Sub-Administrator
The Sub-Administrator feature is available for large group accounts. This feature can be used as a hierarchy tool to assign service providers to designated support staff for monitoring progress. The Sub-Administrator feature is complimentary and in many ways can perform the same actions as an administrator on the website.


Working with Multiple Administrators or Sub-Administrators
Multiple Administrators or Sub-Administrators can be added as members to allow for more than one individual to oversee the same list of Licensed Users. For example, an individual at the district level may serve as an Administrator and oversee the whole subscription and the Principals at each school may serve as Sub-Administrators. Adding the Vice Principal of each school as a member of the Principal's Sub-Administrator group would allow them to also pull reports on the Licensed Users within their school. Learn more here.
Administrator Materials
Administrators can view and interact with monthly materials in order to support service providers. Additionally, they have access to all of the same activities and lesson plans that their service providers have access to. However, they can only print a watermarked version of the materials since Administrator access is complimentary. The following images demonstrate the interactive documents that Administrators have access to.