Core Materials address routine daily instructional tasks that become the basis for transition planning. Materials and lesson plans include daily living skills, circle time activities, jobs, snack time tasks, recreation and games, home reports and daily sign-in procedures.

Core Tasks provide a means to address transitioning skills for:
Communication
Employability
Daily Living
Self-Advocacy
Social Strategies
These are transitioning skills that should be incorporated throughout all grade bands. While the task may look very different for a 4-year-old than for an 18-year-old, the goals are generally the same areas of need. The student goals that we address when completing these tasks are defined in several ways within the Unique Learning System®​.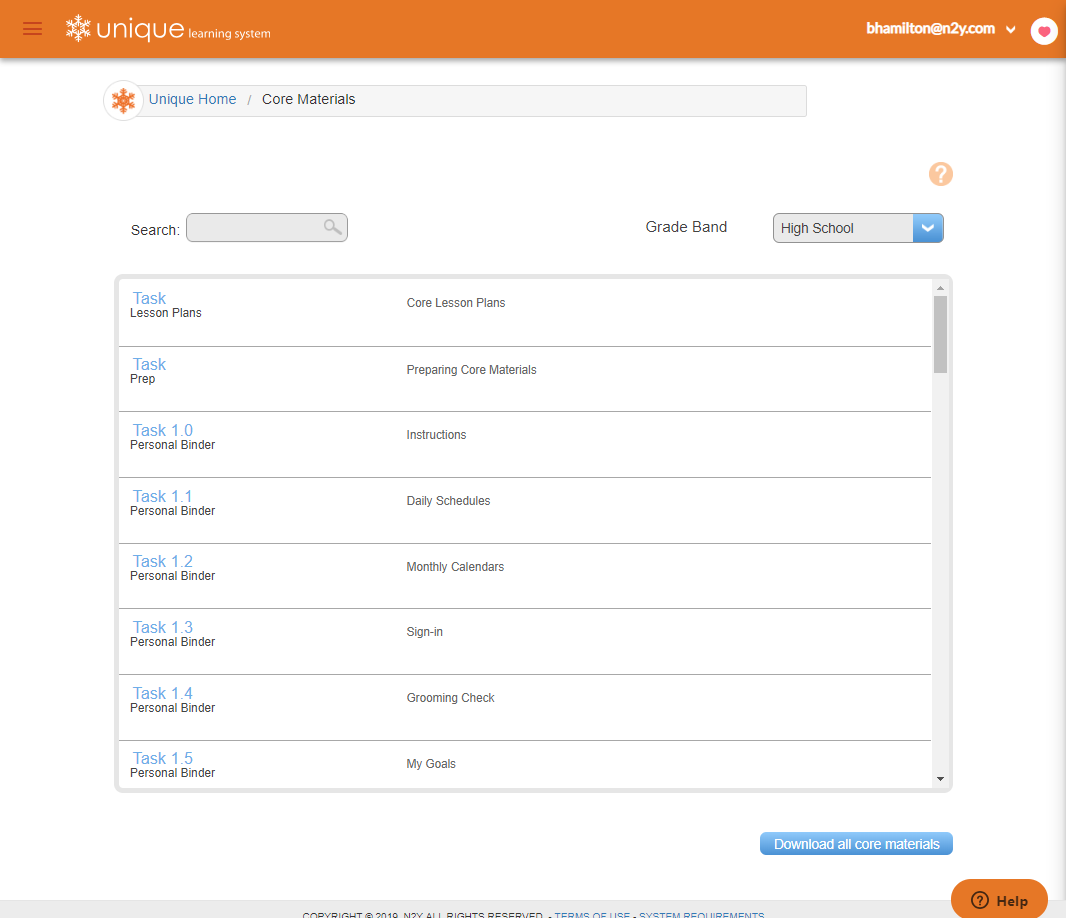 Search & Download

Use the search bar to quickly locate an activity in the Core Materials. These materials are available as either individual or bulk (one large) downloads. In most cases, Core Materials can be downloaded one time and used for the entire school year.
Core Rubrics
Student performance in the areas of communication, employability, daily living, self-advocacy and social strategies are defined by teachers/teams using the Core Rubrics in the GPS.
These rubrics address key skills in combination with a score based on the level of prompting needed by the student. These scores remain in the Unique GPS and can be viewed and reviewed throughout all grade levels that the student is in school. The Core Rubrics can be located in the GPS: Core Rubrics tab.
Self-Evaluation
Student self-evaluation forms are part of the Core Tasks and enable students to rate their own skills and abilities in the areas that were addressed in the Core Rubrics that the service provider completed. From these evaluations, students will select four to five personal goals to focus on for the week or the month. Using a reward system, students can earn points, prizes or money for good skills being demonstrated. This tool can be most effective in teaching students to assume responsibility for their own behaviors/goals.
At the Elementary and Intermediate grade bands, these goal tasks are called "My Goals".
At the Middle School and High School grade bands, these goal tasks are called "How Did I Do Today?".
At the Transition grade band, these goal tasks are called "Salary Sheet".
Personal Binder
Create a personal binder for each student. The binder is a student management tool for collecting and storing information. This binder contains class information as well as information shared between home and school. As students advance into older grades, they assume increased responsibility in the use of the personal binder.

It is also the student's responsibility to share information from the binder with parents and staff. This provides an opportunity for parents and staff to positively foster communication with the student regarding any notes and activities.
The binder is assigned to each student and contains the following categories:
Daily Schedules
Monthly Calendars
My Goals
Daily Buzz (Home Communication)
Grooming Check
Sign-In
Suggestions are provided in each lesson plan for increasing participation of students with the most significant disabilities in core tasks.
Routine Activities
The routine daily tasks address transition skills for each grade band. The goals are generally the same across the grade bands, however, the tasks and activities can differ by age.

Meeting Time
​
Meeting Time is a daily time to come together and discuss pertinent items about the day.
In the younger grade bands (Preschool - Intermediate), students share information on forms about the date, the weather, and current events. The meeting time is an excellent time to incorporate reading the News-2-You article of the week.
In the older grade bands (Middle School - Transition), the morning meeting can resemble a daily staff meeting on the job. Team members take turns as the group leader and reporter of the daily activities. A current events time is included to encourage team members to share an event that is happening in the world around them.
Meal Planning
Meal Planning activities are used to guide meals, which include planning balanced meals, shopping for food, preparing food and cleaning up after eating.


In the younger grade bands (Preschool - Intermediate), snack time is an opportunity to build many daily living skills, such as making food choices, preparing simple foods, setting the table, cleaning up and practicing table manners. This is also a social time outside of the structured learning activities.

In the older grade bands (Middle School - Transition), students are assigned jobs that are part of preparing, serving or cleaning up after a meal. A job list is provided. Supporting materials are included for meal and preparation and table manners.

Vocational Tasks
Multiple Task Analysis cards are provided for jobs & vocational activities. These contain real photos to show the sequence of a variety of school and classroom jobs.
In the younger grades, vocational tasks can vary within the classroom. These tasks give students the ability to see themselves as "workers" with responsibilities.
In the older grades, a set period of the day is allotted for vocational tasks. This provides a structured learning and teaching time where team members build on critical thinking skills, problem-solving, work pace, independence, teamwork and organization in the context of a real-world task.
Recreation & Leisure
Recreation and leisure activities should be looked at as lifetime activities that will promote good health, opportunities for interactions with others and positive sportsmanship qualities.
Recreation and games for younger-aged students involves many different skills: motor planning, sharing with others, interaction with others, taking turns and cleaning up after play. Activities also take a more structured format than the free playtime for younger students. In the older grades, recreation and leisure activities should be looked at as lifetime activities that will promote good health, opportunities for interactions with others and positive sportsmanship qualities.

Students tend to repeat the same activities because of their familiarity and "safeness" with them. Part of the reason behind recreation-leisure time is to encourage new interests.