The Transition Passport in Unique Learning System® is a key component for data collection available at the Middle School, High School, and Transition grade bands.
The purpose of the Transition Passport is to create a personal collection of supporting transition information that is essential for young adults to move into an effective system of transition planning. The Transition Passport Binder is intended to travel with the student from the Middle School to Transition grade band and then exit their educational program with them. The Transition Passport contains evaluation forms and guides/lifelines that may be placed in the individual student's Transition Passport Binder.
The Transition Passport Binder has four sections:
Vocational
Daily Living
Personal Life
Community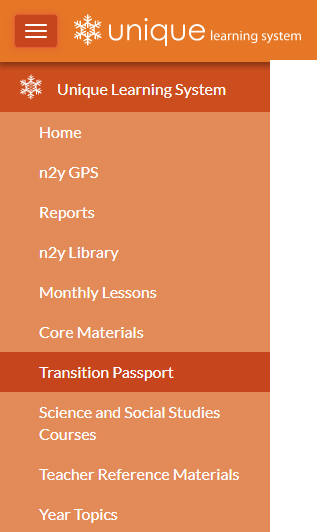 Using the Transition Passport
Service providers will select evaluations, guides, and lifelines from the Transition Passport that are appropriate for an individual and the situations that occur in the classroom or community, in a vocational setting, or in the process of daily living tasks. Some students may benefit from just a few guides and lifelines in their Transition Passport Binder while others may benefit from almost all documents.
Evaluation information is collected from reviews of job training, volunteer activities, job tours, interview processes, as well as student interest surveys. These evaluations are useful in presenting the student in vocational rehab or future employment opportunities. Some forms are intended for service providers to complete while other forms require student input.
Select the drop-box to view different categories and the activities available within each category.
Many of the documents in the Transition Passport Toolbox are created in a PDF fillable form format. This format allows service providerws to type information directly into the form and save for further use.
When opening a PDF document, a message will appear at the top of the page indicating that it is a fillable form. Save the document with a new name that has the team student in it. Locate sections of the form that can be complete with text entry or checkboxes.
Transition Passport Binder
The Transition Passport worksheets and activities are to be printed and stored in a 3-ring binder for each student. The Transition Passport also contains page dividers for the binder and summary forms when recording evaluations, surveys, and other processes. Open the Transition Passport Instructions document to view detailed instructions on creating the Transition Passport Binder.
Lessons within the Monthly Instructional Topics that are suggested for placement into the Transition Passport will be designated in the lesson plans.
They will be shown as: Transition Passport / Section Title / Section Subtitle / Tool Title.