Getting Started with News-2-You
News-2-You® is a weekly online newspaper subscription that connects students with the world around them through current events topics. Each topic is provided in four levels of difficulty to accommodate every stage of reading, from beginning to advanced, as well as a text-only version. Working closely with the Associated Press, News-2-You is timely, contemporary and applicable in classrooms nationwide. Lessons and learning experiences are extended through interactive symbol-supported articles, activities, games, guided practice opportunities and flexible means of expressing what they have learned.

This Getting Started Guide will walk you through the following areas of your subscription: 
Weekly Articles
Using the iDoc
Enrichment Activities 
Holidays, Planning and Extra Materials
If you have questions that aren't answered here, feel free to contact our support staff at (800) 697-6575 or support@n2y.com.
Weekly Articles
With News-2-You, students engage in rich literacy and language instruction while learning about diverse topics in current events.
Current Issues
The Current Issue is published weekly from September to May during the school year and monthly in June, July, and August. The weekly articles and related activities are available the Thursday before the publication date and stay online for two weeks. The newspaper is provided in four levels of difficulty (simplified, regular, higher, advanced) as well as a text-only version. To toggle between levels, click on the difficulty button located above the current issues.  
News-2-You Levels of Difficulty
News-2-You is designed to be teacher-led, with the highest level of content presented first (the Advanced level of the issue), followed by the level appropriate for individual instruction. This practice aids in building literacy skills for students with disabilities. Our site has been restructured to help reflect this.
Simplified – A great way to introduce the topic and vocabulary of the week, with a basic symbol supported overview of the weekly topic.
Regular – Provides in-depth coverage of the weekly topic with clear and concise sentence structure and symbol support.
Higher – Same in-depth topic coverage as the regular version but in a paragraph form with symbol support.
Advanced – Provided in expanded text in a periodical format, the Advanced level offers additional information about the weekly topic and digital real-life pictures.

 

Each weekly issue is also supported by a variety of related activities and interactive games including,
Recipe
Jokes
Extension Activity
Puzzle/Games
Enrichment Activities 
Communication Board
Science Experience
Class News
Interactive Cartoon or Adapted Storybook 
Extension Activities
The weekly Extension Activity has extended information about the newspaper topic with recall questions and video links. This supplemental activity includes eight pages of information and six question and answer activities. It is intended to augment News-2-You's weekly issue content and serves as a wonderful class participation tool. The extension activity can be opened on an interactive whiteboard for the entire class to view all at once. 
 
Select View Fullscreen to remove the browser excess at the top and bottom of the display.
Use the Settings menu to move the navigation toolbar to the bottom of the page.
Read the supporting text together or use the text-to-speech feature online to gain deeper understanding of the topic.
Answer comprehension questions as a group. Answers are supported by red or green highlights and sound incentives.
Watch reinforcing instructional videos by clicking on the links at the end of the activity.  
Communication Board 
Each weekly article has an  accompanying Communication Board (Comboard). News-2-You's Communication Board makes language visible and accessible and can be used for numerous communication and vocabulary-building activities. Available as an iDoc, the communication board can speak, be printed, and also accessed on a variety of platforms such as a desktop or interactive whiteboard.

 
Breaking News
The Breaking News section is reserved for the latest news stories in the categories of World News, Sports News, and Entertainment News. These articles are added throughout the week and can serve as supplemental coverage in the classroom. Breaking News articles often contain external video or web links that offer additional information about the topic. The World News section uses a zoomable map so students can see the places where the news is happening.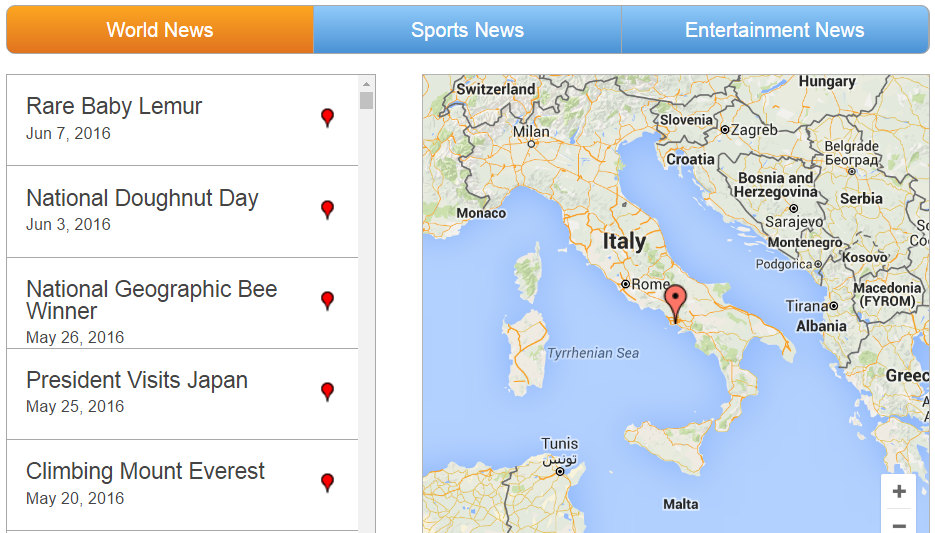 Using the iDoc
All editions of the weekly articles and the supporting activities open as an interactive document (iDoc) in which the subscriber can print or interact with the activity online. The iDoc has several unique features that support classroom and individual participation including,
Accessibility on a variety of platforms like a personal computer, laptop, iPad/tablet, and smartboard
Text to speech with a natural sounding voice
Speak page or click to speak functionality
Text highlighting and rate of speech options
Interactive components such as drag-and-drop, click (or touch) and type, and choice interaction
Answer incentives that include sound and highlighting with the option to disable
Ability to print as a hard copy and/or downloadable PDF format
Ability to zoom in, out, and pan for modification and visual support purposes
Quick navigation to pages and level with the go-to tab
Interactive iDoc and PDF
News-2-You articles can be accessed as an Interactive Document or as a PDF to allow for easy printing.
In the Activities section, iDoc's are always represented with an orange icon. 

PDF's are represented with the red and white Adobe icon. 

To print from the iDoc,
1. Click on the n2y globe located in the upper right
2. Select Print from the menu options
3. Select Print All or Current Page 

 



The weekly newspaper as well as most of the related activities can also be downloaded in a PDF format.  Although the PDF version doesn't have interactive capabilities, this option allows you to save the materials for offline use at a later date. 

Click here for a full guide on getting started with the iDoc. 
Enrichment Activities
Each weekly newspaper issue is supported by a variety of enrichment activities and interactive games found in the Activity section of News-2-You. The activities aid in enhancing content understanding and provide review material to keep students engaged in their studies all week. They are provided in a differentiated format to include ALL levels of learners.




Weekly issues are supported by activities that support skills in the areas of Math-Number Concepts, Fine Motor, Writing, Vocabulary Acquisition, Word Study Skills, Cooking, Geography, and Science. Core Worksheets are provided for calendar, sorting and map activities that may be routine exercises in the classroom. Additional materials for math and money concepts are also provided in a template format.

All activities have a direct alignment to the Reading Standards for Informational Text and the Speaking & Listening Standards. Other activities included weekly that do not meet these standards are provided as a direct link to the weekly paper content, often supported with symbols.
Class News
Class News is an interactive activity designed for classroom involvement in conjunction with the News-2-You weekly topic. With this online activity, students can be directly part of creating their very own newspaper. Class News uses a series of interactive screens that will keep your classroom involved, thinking, and communicating about the world around them. It can be accessed from the Build Your Own Paper section of Current Issues.




Class News can be used in a variety of formats for presentation an interaction such as a personal computer, laptop, iPad/tablet and smartboard. To use Class News to its fullest capabilities, be sure your computer is up to date in conjunction with our recommended software versions. Click here to view our System Requirements.
Joey's Locker
Joey's Locker is an interactive center that contains online games, an adapted storybook, interactive cartoon and access to Club Roo. Six games are provided each week to enhance the vocabulary and reinforce the content presented in the weekly newspaper. The interactive games are platform agnostic and can now be used on tablets and the iPad!





Joey's Locker includes the following:
Online Games - Utilize the vocabulary from the weekly news topic.
Adapted Storybook - Opens as an iDoc, symbol-based, easy-read book based on the weekly news topic.
Interactive Cartoon - A switch-accessible game that follows Joey as he travels to places in the news.
Club Roo - Provides students with at-home access to News-2-You stories and games.
Club Roo is an area just for students to engage in activities both at home and in the classroom. Teachers and parents can let their student play games, read stories, watch a cartoon or read world news articles without worrying about them having access to other parts of the website. Parents can register for their own complimentary username and password, giving them complete access to Club Roo! Since it is an open access page, the content will not be updated as often as the weekly news subscription (only about once a month).


 *Joey's Locker games, interactive cartoon, and Club Roo no longer requires a Flash Player installed to run these online activities.
 
Holidays, Planning & Extra Materials
In addition to the weekly articles, News-2-You offers several other resources to support current event topics in the classroom.  
Holidays
Holiday pages are provided in the regular and higher levels of difficulties. The pages coincide with traditional American and Canadian holidays (including all religious holidays). Articles for every holiday of the year are available with and without symbol support. These activities are provided in a downloadable PDF and iDoc format. Some of the featured holidays are,
Labor Day
Rosh Hashanah
Columbus Day
Veterans Day
Thanksgiving
Hanukkah
Winter Begins
New Year's Day
Earth Day
Independence Day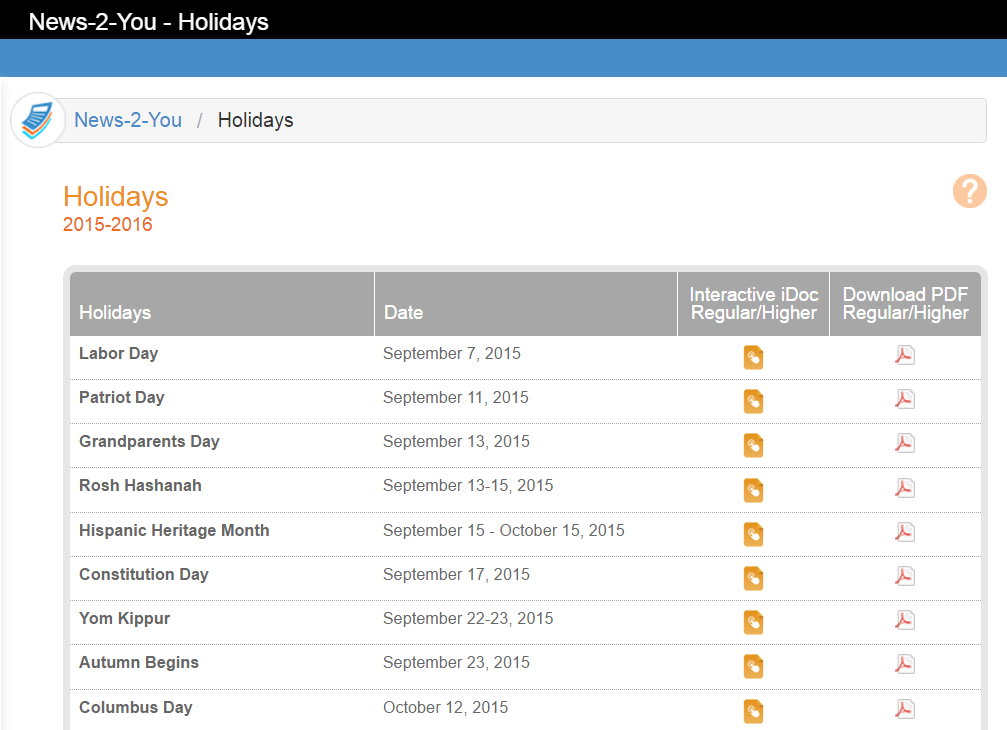 Planning
The Planning section of News-2-You provides a list of upcoming topics for future newspapers as well as a shopping (ingredient) list for future recipes. These lists are provided to give users an idea of what's to come, so they can prepare in advance for classroom inclusion.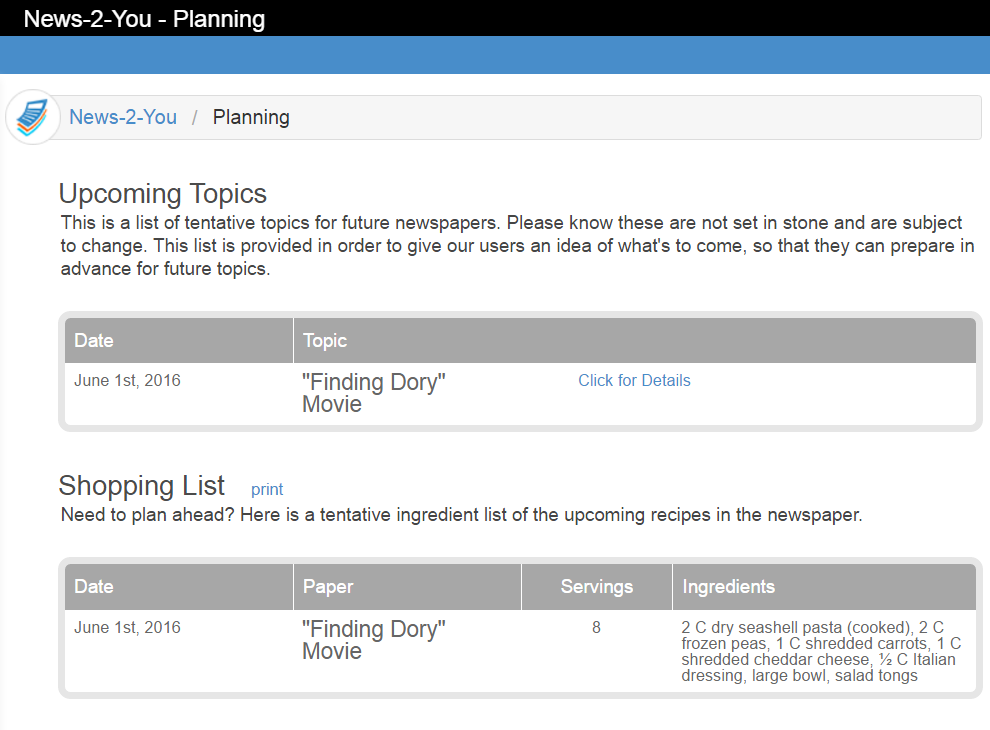 Extra Materials
The Extra Materials section of News-2-You houses numerous templates and supporting files to support the weekly Current Issues. Blank templates and several different worksheets are provided in this section. Supporting files for Saltillo, MyTalk, Jabba (Mind Express), and PRC are also available as an extra feature to subscribers. However, users must have an account with the respective third party application to access.