SymbolStix PRIME™​ includes an option to tag activities, projects, and communication boards. Tagging activities can reduce creation time and help with organizing saved Boards. Examples include tagging by content area, season, grade level, type of activity, thematic unit, and student name among others.
Adding Tags to a Board
In the Board Wizard™, add tags to your activity to help with locating your creations. When you select "Save As" in the Board Wizard, an option to add tags is included in the pop-up box.
Press

to begin adding tags. When the text box appears, you can type the words that will be used to tag the Board. Each tag should be a single word when possible. Once you have the word typed, press

to save the word. If you want to delete the tag, press the tag and then the x when it appears
. Tags will save across all future Boards and can be toggled on and off by selecting the tag. Once the tag is created or selected, select "Save" to apply it to your board.
My Boards
When you save an activity, it will appear in My Boards. You can edit, print, or make a new activity from a saved board and add tags to your board from this area.
To manage tags in a Board, select the "Manage Tags" button for your board highlighted below.
If you click on this button, you can add or edit tags for the activity. You will see the tags you have already added appearing as gray buttons. To add one of these tags to the board, simply click to make it appear blue, and then click the "Save" button.
You can also add new tags here by clicking on the orange plus sign. You will notice that any new tags you add will be blue instead of gray. Once you hit the "Save" button, the blue tags are what will be visible in you My Boards view for that particular Board.
Note that deleting tags will remove them entirely from all Boards.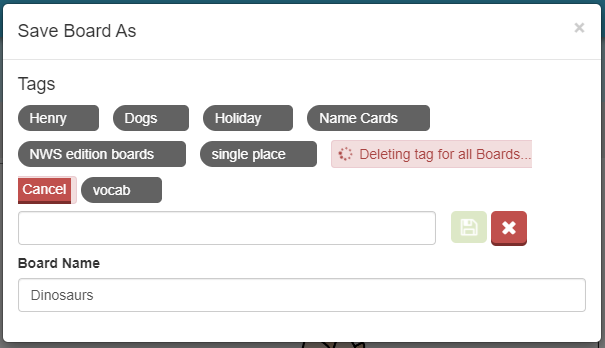 Instead, if there is a tag on a particular Board that you would like removed, click on the tag to change the color from blue back to gray, and save your changes. This will remove the tag from this particular Board, but not from your existing tags available to quickly select.
Searching for Tagged Boards
You can quickly search for tagged boards to access previously created materials on the My Boards page. By selecting the down arrow

at the end of the search field, you can quickly select tag(s) to narrow down your search results.