The Student Summary Report gives an overview of a student's assessments within Unique Learning System®​ GPS for the current year.
The report gives a quick bird's eye view of a student's current scores in these assessment areas:
Profiles
Benchmarking Assessments
Core Rubrics
Monthly Checkpoints
The report can be printed and used for communication during IEP planning and to show accountability to administration.

Click on an area of the Student Summary Report to navigate to the completed assessment's scoring details. If an assessment has not been completed for the student, clicking on the area will navigate to the assessment's page where the instructions for the assessment can be downloaded and the test can be run if desired.
Launching the Student Summary Report:
1. Sign in to n2y.com.
2. Select the orange snowflake to launch Unique Learning System.
3. Select n2y GPS from the drop-down menu.
4. Select a student by opening the Students menu.
5. Select Student Summary Report.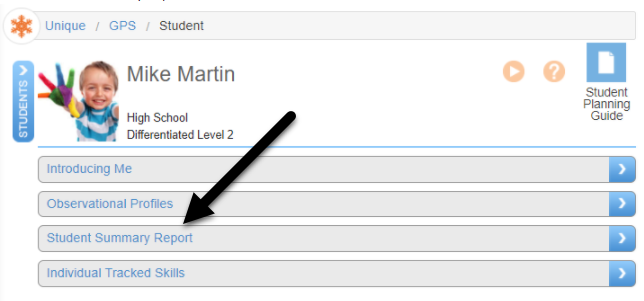 Sections of the Student Summary Report
Student Profile
The Profile section of the Student Summary Report provides observational information of a student's current abilities along with a suggestion of the support level needed.
Benchmarking Assessements
Benchmarking Assesements provide performance tools for selected skill areas. Select an assessment to view details of the results and or run a new test.
Core Rubrics
The Core Rubrics report addresses transition readiness across 5 key skill areas.
Transition Planning
The Transition Planning report is a data collection center for Middle School, High School, and Transition-age students.

Monthly Checkpoints
The Monthly Checkpoints report can be used to give a bird's eye view of Monthly Checkpoint results.