Welcome to SymbolStix PRIME
SymbolStix PRIME™ is a web-based, symbol search engine that gives you access to the most complete and current symbol set available anywhere. Create symbol-based language and learning materials for printing or speaking aloud online. Use the unprecedented changeable skin tone feature to create representations that reflect multicultural classrooms and users.

SymbolStix PRIME is the industry leading, cloud-based symbol creation tool with an enhanced search engine. Using SymbolStix Prime, you can create interactive language and learning materials for individuals with language or learning delays.
This guide will go over the main features of SymbolStix PRIME by coving the following topics:
SymbolStix PRIME Overview
Search
My Symbols
Board Wizard
My Boards
Text to Speech
Hear the same voice used in News-2-You® and Unique Learning System®, read communication boards and activities online. View and hear activities on computers, iPad/tablet, interactive whiteboards to enhance and extend instruction.


Read With Highlighting
See text with highlighting as it is read-aloud in activities and communication boards. Change highlighting color to meet students' needs or preferences during instruction with just a click. Hide symbols in activities for text-only versions!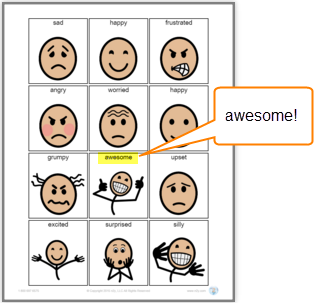 Changeable Skin Tones
Change skin tones of SymbolStix people on the screen to reflect diversity in a multicultural classroom and world! With only a few clicks, have different and more personal representations of actions, occupations, and more.

Enhanced Search Features
Find relevant symbols faster with predictions in the search box. Download symbols for immediate use, move them to the My Symbol Library section for later use or insert them into activity templates. Browse by category, show or hide the Adult symbols as well as search by Locale in other languages.

Activity and Device Templates
Populate project templates with single, multiple, or collections of symbols from My Symbol Library or My Collections. Use one of the pre-made templates to create an activity in seconds. Use, save, print, and store it for use again in the My Boards section.

SymbolStix Collection Tools
Organize frequently used symbols in My Symbol Library or My Collections. Search, find and arrange symbols for consistent use of symbols in materials. Name Collections by subject matter, student name, class period or another name of choice. Select the name of a collection to quickly edit it.
Pin collections to keep them at the top of the My Collections tab. Sort collections in alphabetical order, reverse alphabetical order or by your preference. Pinned and Unpinned Collections can be sorted independently.
Board Wizard™
Create Activities with just 3 steps!
Choose a template
Select a collection
Select the Create button and Board Wizard to assemble activity or communication board.


AutoGrid™
Click to choose a grid size from a 1x1 up to 7x5. Populate with a symbol collection and watch the system create the activity in seconds. Choose to populate with nothing or select symbols for your custom grid. Search, find and drag symbols to your newly created blank grid. Make a mistake? Delete the symbol or drag it to another cell on the grid, notice that the symbol label travels with the image!


Save and Tag Activities
Save projects, activities, and communication boards in the new online system for access anywhere. Tag activities by content area, season, grade level, type of activity, thematic unit, etc. Reduce creation time by editing saved projects in the Board Wizard. Simply open a saved activity, use the SAVE AS function and make modifications in the new project.


SymbolStix Style
Include symbols in activities that are widely accepted, used in curriculum materials, published in news articles, and are personally relevant and interesting to users. The symbols in the SymbolStix library are recognized for their content, clarity, and consistency. Designed and developed by n2y, SymbolStix includes depictions of people, events, and activities with lively stick figures appropriate for all ages.


Contemporary Content
Accept only easily identifiable depictions of events, clothing, food, everyday items and much more. Dynamic language, communication, news events, and popular culture drive n2y to maintain a current, expansive library of symbolic representations.

n2y Product Folders
Create collections from product folders that contain all the core vocabulary from the weekly newspaper and each grade band of the curriculum. SymbolStix PRIME subscribers see and use the News-2-You and Unique Learning System product folders on the main SymbolStix page for fast and easy access. Extend learning in the classroom through dozens activity and static device templates in SymbolStix PRIME.



Home and Search: Find, Use and Create A Collection
From the SymbolStix PRIME Home page, you can browse through and create collections from our latest, recently released symbols. New symbols are added with each issue of News-2-You and as requested by teachers. Easily create a new collection to integrate with News-2-You or Unique Learning System from the Latest Symbols section of the Home page.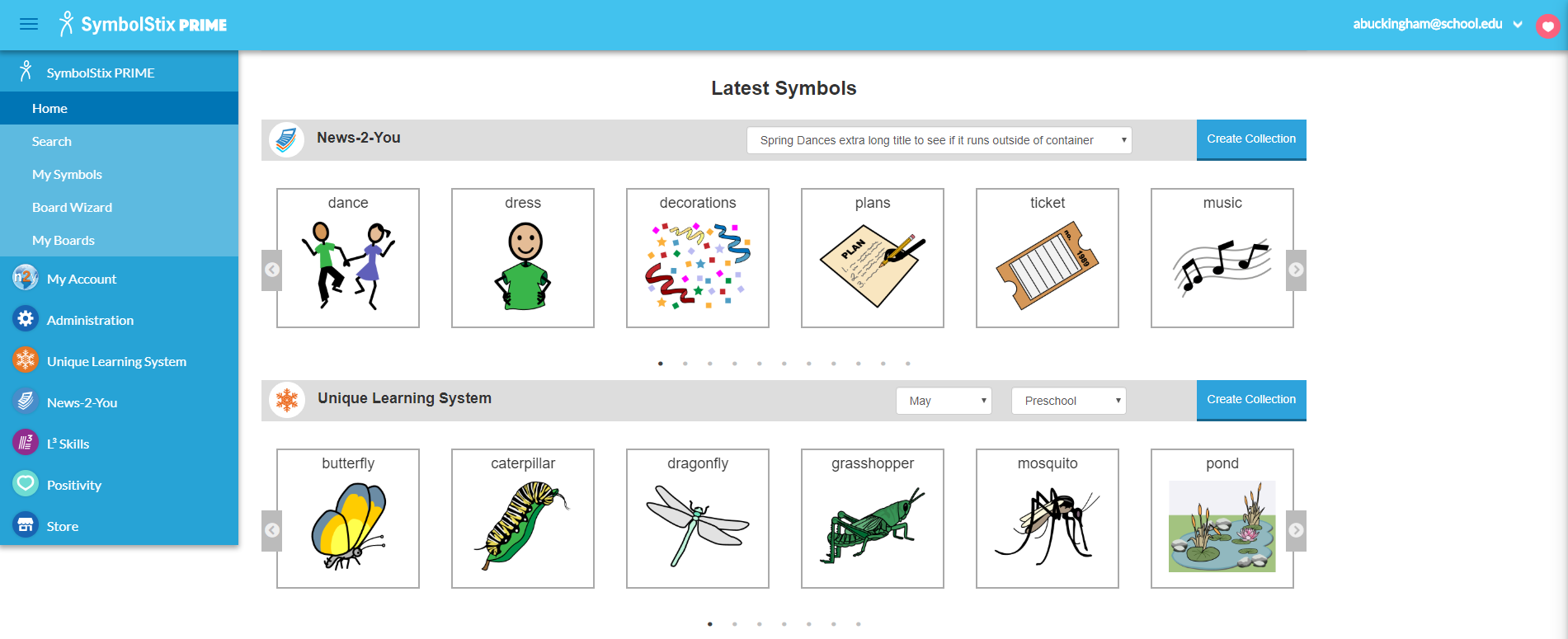 The symbols used in the current newspaper article and current monthly thematic unit are posted on the home page for quick access.
Scroll or swipe through the symbols. Select a symbol to bring up the preview, tags and other options.




Add a symbol to My Symbols. This saves the symbol in another area of SymbolStix for you to organize and create with later. Or, download an individual symbol in a high-quality PNG format directly to your computer.
Create a Collection from News-2-You or Unique Learning System
Creating a Collection will allow you to group symbols together to be used in your classroom. Collections are added to the Collections inside My Symbols, where you can quickly download the set of symbols or use in creating supporting materials with the Board Wizard.
TIP! Make a weekly reminder to create a collection of News-2-You symbols and a monthly reminder to make a collection of Unique Learning System symbols. The symbols that display on the home page change with the current topic for each subscription.
Search
From the Search menu, you can search for symbols based on keywords or actions. Select Search in the left menu to browse through the entire collection.

Enter the search term for symbols you would like to find. The search engine has been enhanced and is faster than ever! It also gives suggestions based on your typing and can even take a guess at what you are looking for, in case you misspell a word.


Select the arrow to show the advanced settings. Customize the search by choosing to hide adult symbols or American sign language. Changing the locale supports symbol searches in many other languages.


From the symbol results, select a symbol to bring up the preview, tags, and options to save to My Symbols or download an individual symbol.



My Symbols: Save & Organize
SymbolStix PRIME includes a tagging and organizing tool right within the website. SymbolStix users can save a favorite or preferred symbol by adding to My Symbols from the search page.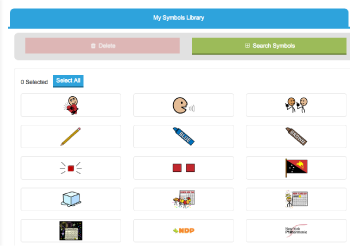 My Symbols
My Symbols provides quick access to any symbol saved on this page. Select multiple symbols from the My Symbols page by clicking or touching on the symbol.

Download

Download multiple symbols to your computer with one action. You can download up to 25 symbols at a time. Symbols download in a PNG format

Copy to Collection

Copy selected symbols to a saved collection.



Search


Find symbols by using the search option and quickly add to My Symbols from here.
Delete

You can also delete a symbol from My Symbols. This does not remove the symbol from SymbolStix, but only from your saved favorites. You can always go back and find it using search.
Collections
A collection is a group of saved symbols. Grouping symbols can help you organize your prized symbols and use in the creation of activities in the board wizards. Consider creating collections to support unique learners communication needs, such as Rob's communication device, or to support classroom periods or projects such as, "morning math class" or "volcano science experiment."



You can also quickly add the News-2-You or Unique Learning System topic symbols to a collection from the home area. When you add this collection, it will show up in the My Symbols area, under Collections.


Manage Collection

Use the Manage Collection icon to search for symbols to add, clear symbols for a collection or download individual symbols in a collection.

Organize



Keep collections at the top by using the pin. Organize the order of pinned and non-pinned collections by using these arrows.

Copy and Transfer


Copy or transfer symbols from one collection to another.



Download


Download multiple symbols to your computer at one time.
Delete


Or delete a collection. (this is irreversible if you choose to delete)

Change Skin Tones


Change the skin tone of individual symbols or entire collections of symbols within My Collections. Select a skin tone and Set for Collection to change the entire collection of symbols to the desired skin tone. Select the Default Skin Tone icon to set all symbols back to their original default skin tones.
Or, change the skin tone of individual symbols in a Collection by clicking Manage Collection and selecting a symbol from the skin tone selection list.


Board Wizard: Create & Store
The Board Wizard in SymbolStix PRIME is an online tool for creating instant projects without the hassle of downloading software or taking numerous updates! SymbolStix users create learning activities and communication supports on the website - anytime, anywhere. The projects are stored online using a modern tagging system to meet the needs of a fast-paced classroom or caseload.

The Board Wizard is a revolutionary way to create your supplemental content. We hope you enjoy the possibilities to creating your therapy and communication needs - by using one of our premade templates or making your own!

Activities created in the Board Wizard are supported with text to speech, using the same voice in News-2-You and Unique Learning System. View and hear activities on computers, iPad/tablet, or interactive whiteboards to enhance and extend instruction.
Board Wizard™
Select from dozens of pre-built activities, customize an activity by size, create a custom activity or choose one of the popular communication device templates within the Wizard. There are many pre-made templates that can help you quickly create activities to support your students, such as vocabulary strips, math sets or level 1 questions. Customize a board by selecting the desired number in your grid - the combinations are endless here! The device templates include several well-known communication overlay templates that will fit the named device, such as GoTalk 9 or Prox Talker 10.


Create a New Activity
Select an activity to begin creating. Chose to pre-populate your board with symbols from saved Collections or My Symbols.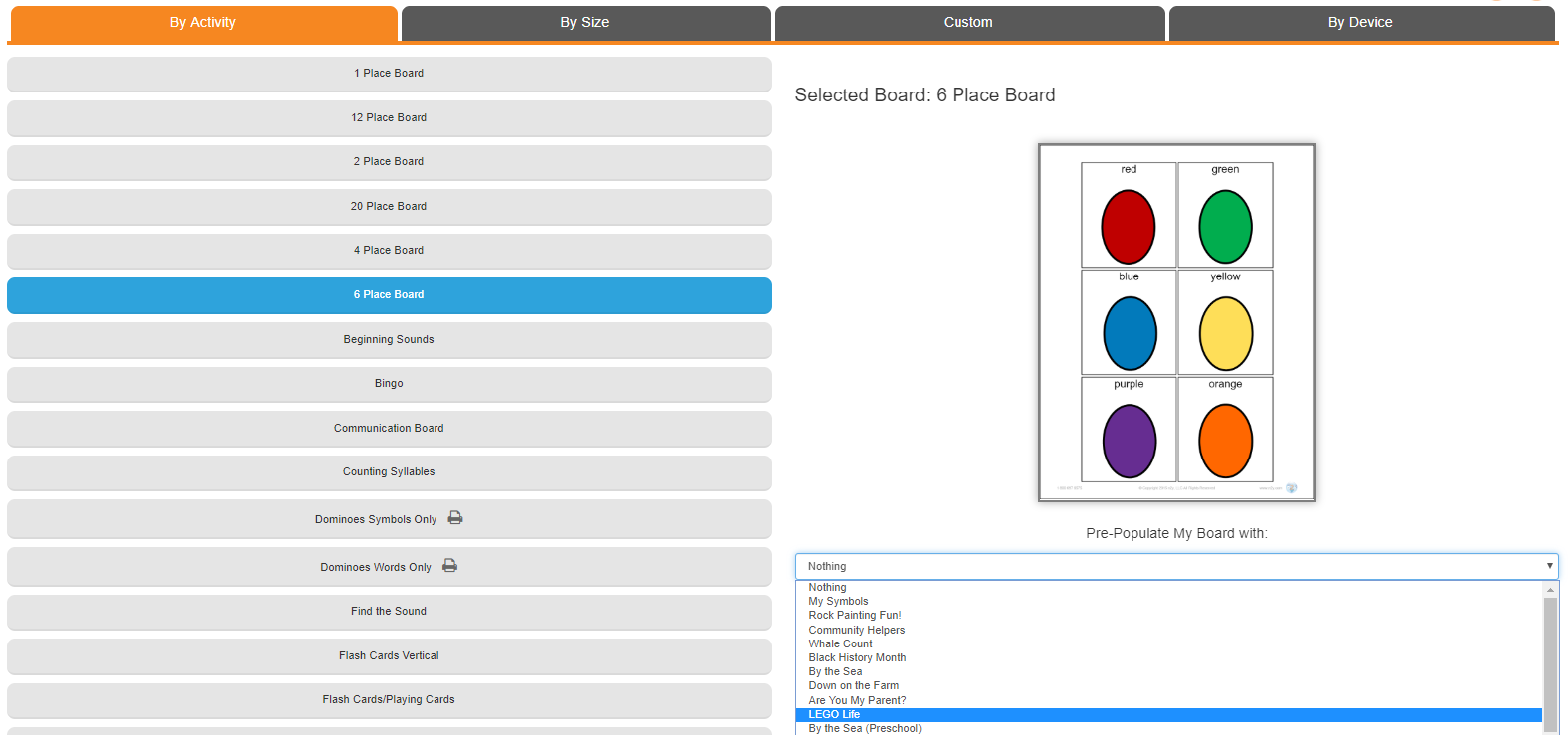 Edit the Activity
​
Add symbols to your board from the right menu. Select symbols from your symbol bank, search for symbols from the entire SymbolStix library or upload your own image. Drag a symbol from this menu to your board, or select multiple symbols from the symbol bank and use the populate button to send several to the board at once.

Drag a symbol from one placeholder to another on the board.

Text travels with the symbol to its placeholder.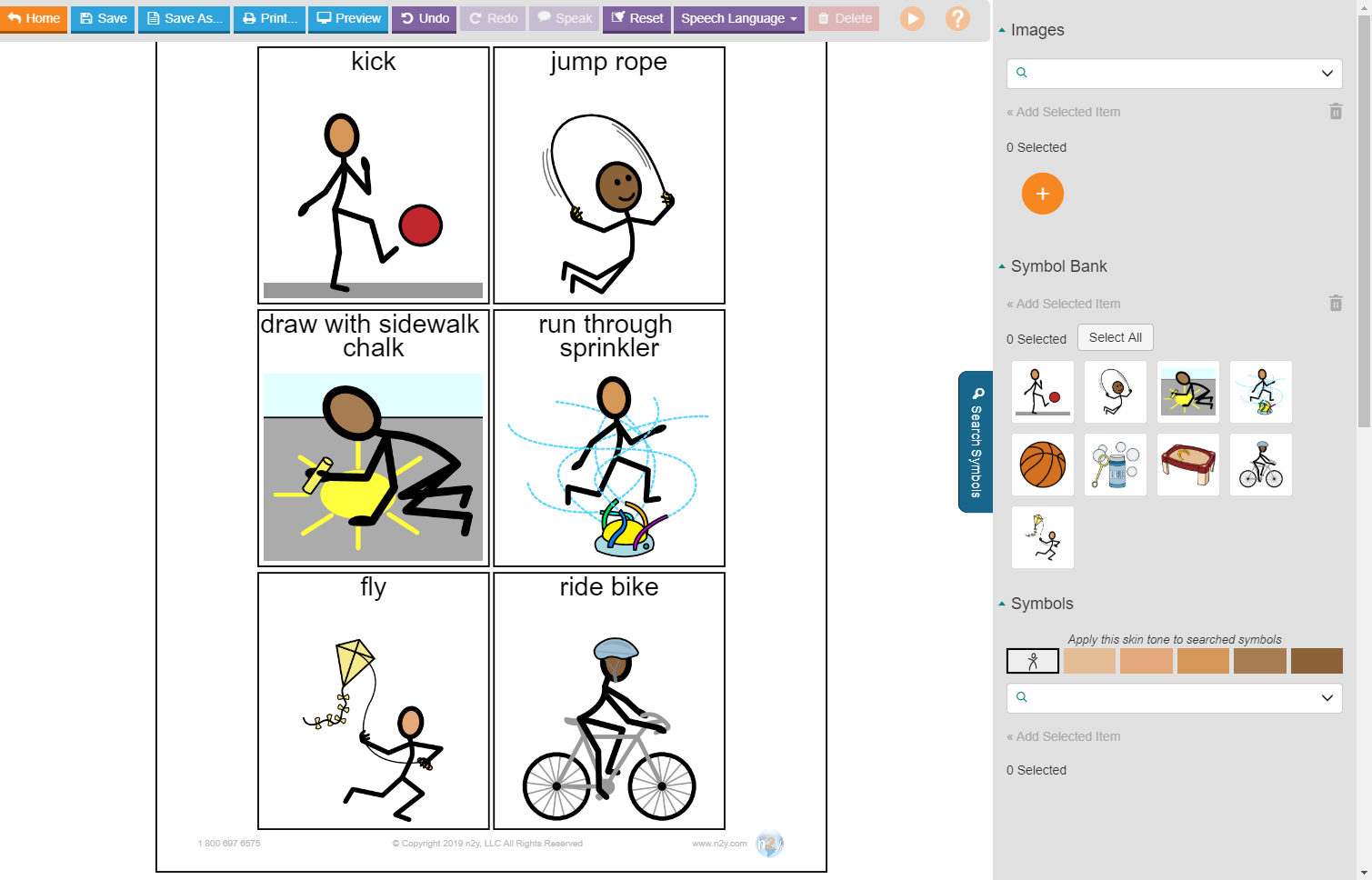 Edit the text of your symbol by clicking on the symbol and using the menu at the bottom. With this editing menu, you can:

Edit the text label of the symbol.
Edit the speech text of the symbol.
Change the font family, color and size of the text.
Change the skin tone of a symbol.
And change the background color of the symbol placeholder.
Save and Print

From the top menu, Save your activity. When you save your activity, it will store it in My Boards for you to access at a later time and edit, print from or build new activities. Be sure to save your changes before exiting the activity or using the Save As feature.



Add tags to your activity to help you with locating your creations. Consider using tags such as student name, class period, subject, device or anything you wish.




Use Save As to create a new activity based off of your current board. Save As can help you make multiple activities using the same style board and customize each. Give each new activity a name and add appropriate tags.

The Reset button can help you quickly clear your board and then recreate the activity by using the symbol bank on the right.

Print your activity to a network printer. You may also be able to select Print, "Save as a PDF" and save the file to your computer.


My Boards
When you save an activity, it will appear in My Boards. You can edit a saved board, print from, make a new activity from a saved board and add tags to your board from this area.




Search for a board by typing in the title of the board in the search box.


Select the the Manage Tags button in a board to add or edit tags for the activity.
Select the Edit Board button to open the activity and edit, print from or save the activity as a new board.
Select the Preview button to view your board, use text-to-speech and text highlighting.
Select the Delete button to remove the board from your saved activities. (This is irreversible.)