Welcome to Unique Learning System
Unique Learning System provides differentiated, standards-aligned content designed specifically to help unique learners access the general education curriculum. Unique Learning System's differentiated materials have an array of components to support and provides a means of access to instruction for unique learners. Users interact with differentiated, thematic units of study with text-to-speech capabilities, interactive components, hundreds of activities and multiple opportunities to show what they know.
This getting started guide will walk you through these areas of your subscription:
Set Up Your Teacher Dashboard

Add Students and Create Profiles

View Your Lesson Plans and Suggested Monthly Plan

Get Started with GPS

Additional Materials
Set Up Your Teacher Dashboard
The Teacher Dashboard is a simplified but powerful daily management hub - helping you take charge of your day from one convenient place by:
Ordering activity content based on your daily schedule

Launching lessons directly from your dashboard

Automating the order of lessons in Student View

Creating individualized plans for students who don't follow your main classroom schedule
Begin with an automated wizard to set up your schedule and receive a monthly plan populated with differentiated content. Enter your schedule and the subject you teach to create a My Plan. Personalize your plan by adding in days where you will not teach your normal schedule.
When completing the My Plan Setup wizard, select the Help-on-the-Spot tooltips for a description of each page.
Accessing Content
Once a recurring schedule is created through the Wizard setup, the lesson content for each day will display in the My Plan section of the Teacher Dashboard. If you've added individual student plans, or have access to multiple grade bands, select them from the list. Student View will automatically display the content from the plan.
Select from the action icons to open lesson plans and activities.
Launch PDF materials.
Launch iDoc lesson plans. Use Lesson Plans to prepare for class and view the standards addressed throughout the lesson.
Launch an activity for preparation or presentation purposes or as group work. The lessons plans indicate which activities should be presented as a group or as individual practice.
Student View
For independent unique learners access use Student View. The schedule and materials you set through Teacher Dashboard will automatically sync to Student View in the order that the unique learner should complete each activity for that day. Plus, student daily performance will be tracked through student view!
Click the links for more information on student login and configuring student view.
Calendar View


The Calendar view offers a comprehensive overview of your week and can be used to add additional content or make edits quickly. If managing multiple student schedules, the Calendar view will allow edits to be made to these individually.
Click here for more information on editing your schedule in Calendar view.
Individual Student Plans
Create individualized plans for students who have schedules that are drastically different than your own. Student Plans can be created for unique learners who have different IEP goals and join different classrooms throughout the day.
Click here for more information on creating an Individual Student Plan.
Add Students and Create Profiles

Create unique learners' accounts and assign personalized learning preferences for each unique learner through My Students.
Unique learners who have previously used Unique Learning System with another service provider can be added. Create a new student account for a unique learner using using Unique Learning System for the first time.
For information on adding and dropping students, click here.
Student Profiles
Profiles record data on the current abilities of your unique learners, suggest a differentiated level and give access to the assessments in GPS. Work with you educational team to complete a new profile annually for each unique learner using Unique Learning System.
A completed profile indicates the unique learners' present level of performance, which is helpful when writing an IEP. The profile suggests instructional strategies for each skill based on the unique learners' present level. The profile will yield a differentiated level which will guide selecting instructional materials for that unique learner.
Level 3 unique learners are typically learning to read text, produce simple writing, perform basic math processes.

Level 2 unique learners may require picture support and other direct support in learning.

Level 1 unique learners typically require maximum support within all instructional tasks. unique learners requiring level one supports typically do not make distinct or consistent choices. For these students, the main objective is increasing participation and demonstrating an active participation response.
With a profile completed for each unique learner, you're equipped to communicate student learning needs to the educational team and apply individual instructional strategies to the monthly materials.
View Your Lesson Plans and Suggested Monthly Plan
The My Plan in your Teacher Dashboard can populate activities based on the Suggested Monthly Plan, generate an empty My Plan to add content to, or create a My Plan from an existing template. n2y recommends populating activities from Unique Learning System's Suggested Monthly Plan, to ensure that service providers are covering all of the appropriate lessons and standards in their grade band every month. The Suggested Monthly Plan highlights how lessons can be revisited for multiple exposures to skills over time.
Use the GO button located on the iDoc Nav Bar quickly navigate to any of the lesson plans or activities.
Using the lesson plans, service providers can engage all students with age-respectful, standards-based materials.
Lesson plans provide detailed instructions for delivering each activity, supported by a consistent routine.

The lesson plan's Instructional Targets offer a bridge between state standards and Unique Learning System's curriculum and document alignment with your state's extended standards.

Differentiated tasks outline individual participation expectations for each activity, allowing all unique learners to address the state's extended standards through the instructional targets.

Topic Connections describe how the lesson is supporting the social studies or science standards-based topic.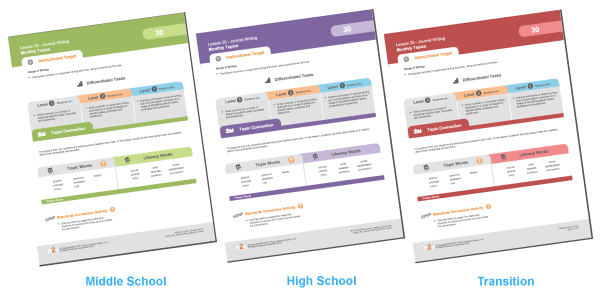 Click on a grade band for more support on Monthly Lessons:
The Lesson at a Glance page focuses on each activity in the lesson plan. It includes resources and materials needed teach the lesson.

Each activity page outlines an instructional routine for you to:
Introduce the activity and present a learning goal,

Model the activity

Choose the most appropriate activity format based on each of the unique learners skills and needs

Review or retell the activity's goal

Monitor progress and check understanding of each individual unique learner with key questions.
GPS: Data Collection Center
Goals, preferences and skills (GPS) is the data collection center in Unique Learning System. The GPS has an array of assessment tools that can be administered to identify and monitor a unique learners goals, preferences and abilities in relation to the instructional practices within the Unique Learning System curriculum.

Skill Tracking allows a service providers to identify skills that should be tracked on individual unique learners that directly correlate to an IEP goal and/or track subsets of unique learners on a determined skill. Skills that are tracked within Unique Learning System give a complete summary of all the n2y resources that are related to a particular skill, including lessons, standards, the present level of performance and related assessments.
The Profile records observations of an unique learners current abilities in the Preschool, K-12 Learning or Transition. Each profile provides suggested support levels and strategies for differentiating instruction.
Monthly Checkpoints provide pre- and post-assessment measures of monthly unit content and skill learning.
Benchmark Assessments enable service providers to gather baseline data and monitor progress in selected areas of reading, writing and math.
Core Rubrics address transition readiness skills in the areas of employability, communication, self-advocacy, daily living and social strategies.
Transition Planning allows unique learners in Middle School, High School, and Transition grade bands to self-identify personal preferences and transition skills.
Additional Information
Select from the links below to open our Knowledge Base article for each topic: