Student View must be configured for each student to ensure access to Unique Learning System and to see the desired materials when logged in. Student View requires an initial configuration and can then be updated as needed based on changes in a student's current abilities.
Configuring Student View
How to Configure Student View:
A Student Profile must be completed before you are able to set up Student View.
Navigate to My Students under the My Account menu.



Select the settings

icon by the desired student.



Use the arrow to expand the Solutions Settings section.

Expand the Unique Learning System section.

Select the Configure Student View button.
Set Reading Level Priority
Set the priority order for book levels for each student. Each month, when new lessons are released, our system will automatically match book levels available in a lesson to the best option for the student. To set the reading level, select the arrow to the right of the ideal level for your student's needs to move it to the top. Use the drag handles to make any further adjustments. If you are unsure of what level is best, reference the Leveled Books document and/or Benchmark Reading Level Assessment linked on the right-hand side of the page.
Pro Tip: To provide students with the symbol-supported reading pages of the Inspire Classics, select the 'Use Symbol-Supported Version When Available' checkbox.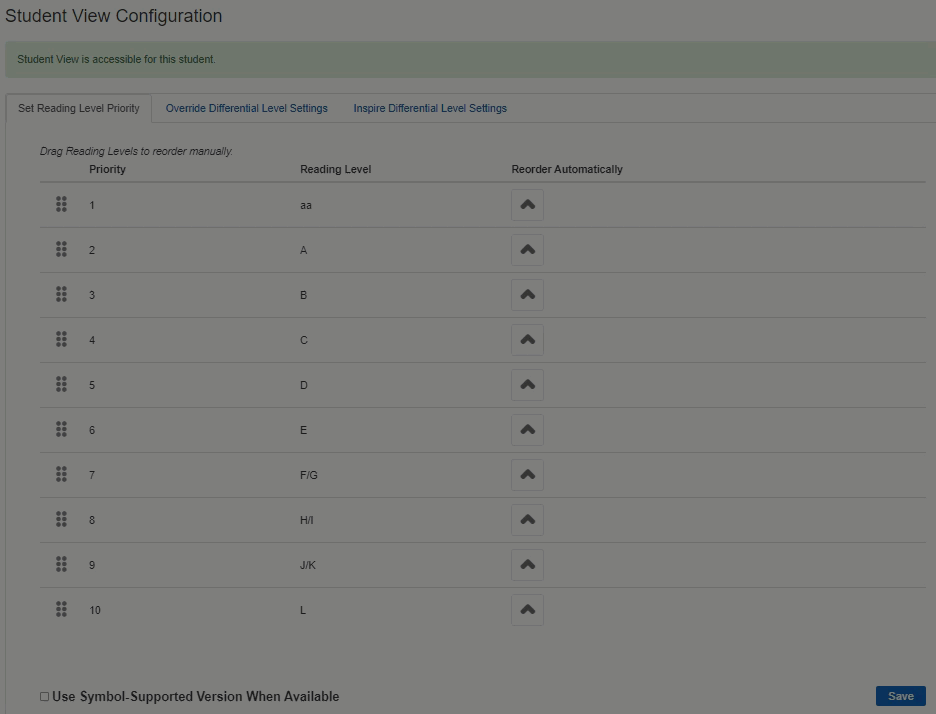 Override Differential Level Settings
Override the default differentiated level for specific lessons, which are set by the Student Profile.
Inspire Differential Level Settings
The Inspire Differential Level Settings section only appears if you have a license for the Inspire Classics add-on. Select differentiated level settings for each student in individual Inspire Classics, or use the Course Level Override at the top to set them all at once.
Pro Tip: Level 4 indicates a unique learner who is working toward general ed standards vs. extended standards. Level 4 learners will be expected to determine answers using context clues rather than by referencing materials.