Student View must be configured for each student to ensure that they see the desired materials when logging in. Student View requires an initial configuration and then as needed if changes take place with the student's current abilities. Once the Student View is configured, you do not need to re-configure each month. When the current month is updated (the first Wednesday of each month), the settings will still be in place.
Configure student view:
Click My Students from the left menu.

Select the student by clicking on their picture.

Navigate to the Unique Learning System Settings section in the lower right-hand corner.

Click the Configure Student View Button.
Student View allows teachers to have control over the view of the lesson for each student. You can accept generated default levels for your students based on the differentiated level determined in the profile. When accepting defaults, the lessons will still need to be configured since books use a leveling system rather than differentiated levels. The student profile must be completed before you are able to set up Student View.
The Accessibility Settings tab allows you to adjust the reading speed, enable or disable text to speech, provide highlighting options and update interactivity and view settings.
The Show/Hide Lessons for Student allows you to choose which lessons to assign to your student. Select All and Deselect All buttons are available to make configuring student view quick and easy.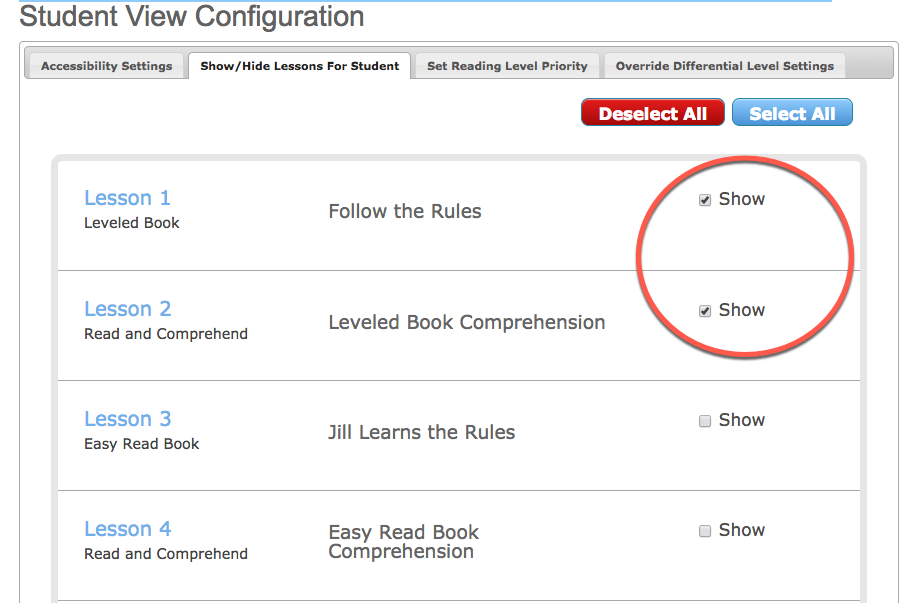 The Reading Level Priority will allow you to set priority order for book levels. Each month, when new lessons are released, our system will automatically match book levels available in a lesson to the best option for the student. To set, use the arrows to adjust the level to fit your students needs.
The Override Differential Level Settings section will let you override the default Differentiated level set by the profile if you need to set it for a specific lesson for a student.
Teachers can also set the accessibility preferences in the individual student's iDoc in the areas of reading, view, and interactivity. Lessons in Student View are for the current month of materials available online. Lessons will update on the first Wednesday of each month to coordinate with the new monthly unit.