Sample Students are now available to help you get acquainted with the Goals, Preferences and Skills (GPS) component of Unique Learning System. Your sample students come with completed Profiles, Checkpoints and Benchmarks at differentiated levels so you can practice and learn key elements of the program without affecting real student data. Use your sample students to practice:
Adding and dropping students

Viewing differentiated levels

Giving assessments

Pulling and reading reports

Setting up student view/login
Adding Sample Students
Sign in to your n2y account. Select My Students from the left menu.
Select the  button.
Select  from the options that open.
 A window will open allowing you to choose between your solutions that allow student login.
If you select Unique Learning System, you must select the differentiated level and grade band for the sample student. As you add students across differentiated levels and grade bands, they will populate on the My Students page.

Select a sample student to enable login settings, delete or share the student or change the grade band settings. Please note that Sample Students can not use the QR Badge feature, as they are unable to have images added to them. 
Viewing Student Profiles in GPS
Now that you have a sample student added to My Students, you can open the GPS to view the Student Profile.
Begin with the Student Planning Guide. This form is used to examine and mark areas of assessment that are pertinent to the individual student, such as Benchmarks, Transition Planning and Monthly Checkpoints. Information can be typed in and selected using this online guide, and then printed or downloaded as a PDF document.
GPS areas available to view are as follows: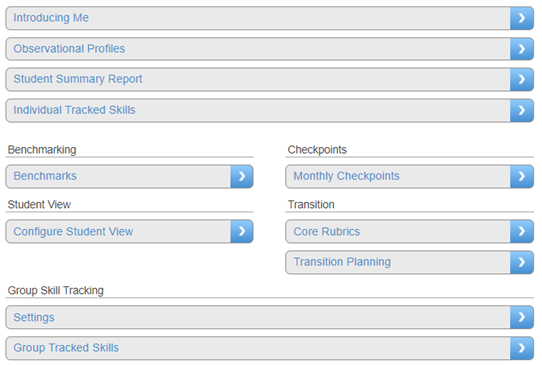 Introducing Me is where basic biographical information is held such as where the student lives and what the student likes. Select to edit the preferences for the sample student.
Observational Profiles allows teachers to evaluate student skills in areas such as transition readiness, self-help skills and learning. Select "Create New Profile" to run through a profile for the Sample Student and view the PDF guide for more information on the available Observational Profiles.
Student Summary Report gives an overview of a student's assessments within Unique Learning System GPS for the current year. The report gives a quick bird's-eye view of a student's current scores in the assessment areas of Profiles, Benchmark Assessments, Core Rubrics and Monthly Checkpoints. When completed, the assessments for the sample student will update in the Student Summary Report.
Individual Tracked Skills is used to track skills that can be used for completing an IEP and monitoring individual performance. Skills will be added to Individual Tracked Skills as you complete profiles and select skills to track. For a complete overview of tracking skills, visit our knowledge base article.
Below the Student Profile information are options for Benchmarks, Checkpoints, Student View, Transition and Group Skill Tracking. With the sample student, you can open and explore these options without it affecting real student information.