Sample Students are available to help you get acquainted with n2y solutions while implementing Unique Learning System, News-2-You, Positivity, and L3 Skills. Your sample students come with completed Profiles, Checkpoints, Benchmarks, and data for Unique Learning System, Positivity, and L3 Skills, so you can practice and learn key elements of the program without affecting real student data. You can also log in as your student to view their experience through Student View.
Use your sample students to practice:
Setting up Student View/login

Signing in as a student and viewing lessons for Unique Learning System, articles from News-2-You, strategies for Positivity, and activities in L3 Skills

Administering assessments

Pulling and reading reports and graphs for Unique Learning System, L3 Skills, and Positivity
How to Add a Sample Student:
Sign in to your n2y account. Select My Students from the left menu.
Select the button.
Select from the options that open.

A window will open allowing you to select the grade for your sample student and choose between your solutions that allow student login.

As you add students across grade levels, differentiated levels, grade bands, and types, they will populate on the My Students page.

If you select Unique Learning System, you must select the differentiated level and grade band for the sample student.

If you select L3 Skills, you must select if you want data for a switch or non switch user.

Select a sample student to enable login settings, delete or share the student, or change the grade band settings.

Please note that Sample Students can not use the QR Badge feature, as they are unable to have images added to them.
Viewing Student Profiles
Now that you have a sample student added to My Students, you can view an academic profile through Unique Learning System and a behavior profile through Positivity.
In Unique Learning System, begin with the Student Planning Guide. This form is used to examine and mark areas of assessment that are pertinent to the individual student, such as Benchmarks, Transition Planning, and Monthly Checkpoints. Information can be typed in and selected using this online guide and then printed or downloaded as a PDF document.
GPS areas available to view are as follows: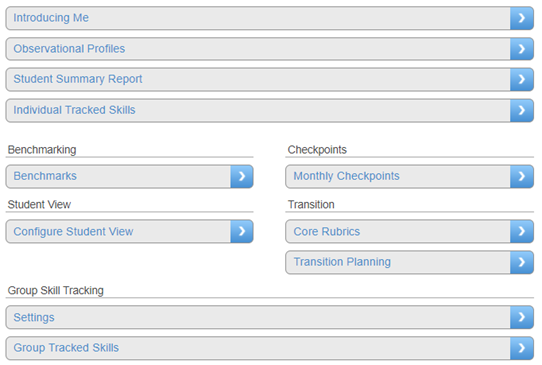 Introducing Me is where basic biographical information is held such as where the student lives and what the student likes. Select to edit the preferences for the sample student.
Observational Profiles

allow service providers to evaluate student skills in areas such as transition readiness, self-help skills, and learning. Select "Create New Profile" to run through a profile for the Sample Student and view the PDF guide for more information on the available Observational Profiles.

Student Summary Report

gives an overview of a student's assessments within Unique Learning System GPS for the current year. The report gives a quick bird's-eye view of a student's current scores in the assessment areas of Profiles, Benchmark Assessments, Core Rubrics, and Monthly Checkpoints. When completed, the assessments for the sample student will update in the Student Summary Report.

Individual Tracked Skills

is used to track skills that can be used for completing an IEP and monitoring individual performance. Skills will be added to Individual Tracked Skills as you complete profiles and select skills to track. For a complete overview of tracking skills,

visit our knowledge base article

.

Below the Student Profile information are options for Benchmarks, Checkpoints, Student View, Transition, and Group Skill Tracking. With the sample student, you can open and explore these options without it affecting real student information.
In Positivity, the profile provides an overview of the individual's present level and associated strategy suggestions are provided in the Profile Details page. For each category, with the exception of the Strengths & Positive Attributes section, a description of the level of demonstration for items within the category as well as individual items are summarized using the following levels:
Mastery

- Appropriate, consistent, and independent demonstration of a skill or behavior across people, settings, and contexts.

Instructional

- Appropriate yet inconsistent demonstration of a skill or behavior across people, settings, and contexts.

Emerging

- Limited and/or inappropriate demonstration of a skill or behavior (may include problem behavior).

Review/Revise

- Minimal to no demonstration of the skill or behavior OR skill is associated with definite problem behavior.
Below each section, a strategy suggestion will be highlighted in teal.


Viewing Reports
Sample students also allow you to view reports.
To view reports:
Select the My Reports section from the My Account menu.



Select the solution you wish to report on.

Select the desired options (options will vary by report).

Pro Tip: Use the toggle to include sample students when running classroom reports.

Select the View Report button.