A Summer Teacher option is available in Unique Learning System over the summer months. This additional feature is complimentary with your subscription, does not require a license, and can be added by a Subscription Manager. If you or your staff already have a license with Unique Learning System, the summer unit will be available without the need for any changes.
The Summer Teacher is meant to address the needs of educators outside of the standard academic year including:
Licensed subscribers that have late or early start dates for the academic year and need content for June and/or August.

Users who are teaching through an extended school year (ESY) and may need access to grade bands that are not part of the regular subscription.

Users who are teaching through ESY with a mix of students that may not be in their class during the school year.

Unlicensed users that are teaching ESY for a district and need access to multiple grade bands and a wide range of students.
Subscription Managers can learn how to quickly add Summer Teachers here.
Summer Teacher
Starting May 1st, Subscription Managers will have the ability to add a Summer Teacher if the teacher is not already a licensed user of Unique Learning System.
A licensed user will have access to all of the standard features of Unique Learning System along with all grade bands.
On May 5th the Summer Unit will be available for planning purposes. The Summer Teacher will be able to access the summer unit with an n2y login. This login will have limited access to Unique Learning System features including:
Summer Unit Monthly Lessons: iDocs and PDFs available without watermarks.

n2y Goals, Preference, and Skills (GPS) including Observational Profiles, Checkpoints, and Student View configuration.

My Students

Summer Teachers can create new students and share students from their usual owner

n2y Library

Teacher Reference Materials
Sharing Students for Summer Teachers
Summer Teachers will have the ability to add new students or share students with other teachers in ESY. This feature is available to address mixed classrooms and grade bands that are common in a summer classroom.
Please note: The ESY Summer Teacher will want to search for their students prior to creating a new student or requesting to share a new student. Only the teacher who has the student in their classroom from the previous academic year can share the student with the Summer Teacher. Your administrator also has the ability to move students between classrooms. For more information, click here.
At the conclusion of the summer unit, make sure to drop or unshare students that are added to a Summer Teacher. This will allow teachers in the next academic year to add the students into their class
To share a student:
1 . Log into n2y.com and select the My Students tab from the menu.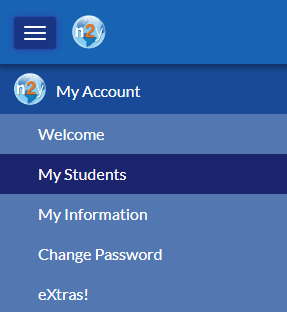 2.Select the settings icon next to the student you would like to share.

3. Select the arrow to expand the Solution Settings.
4. Expand the Unique Learning System section.
5. Select the Add Share button.

6. The Share Student with Teachers screen will appear.

Select the Show All Available Teachers button.
Note that to successfully share a student, the teachers must have the same grade band.
7. Click the green circle to share the student with another teacher or select multiple circles to share with additional teachers.

8. Once a teacher has been shared, a green box will appear stating that the student has been shared with a specific teacher.

9. When closing the Share Student With Teacher screen, you return to My Students. At the bottom of the Unique Learning System tab, there will be a confirmation of the teacher(s) that you have shared a student with.