Create individualized plans for students who don't follow your main classroom schedule through the Student Plan wizard. Student Plans can be created for students who have different IEP goals and join different classrooms throughout the day.
Creating a New Student Plan
Select the Create New Student Plan icon to launch the wizard.

Select a student to configure from the drop-down list.

The Student Plan wizard functions similarly to the My Plan Setup wizard but is specific for the student that is being configured. Complete the  with the relevant information for the student. If you need additional assistance on the slides, select the Help Tooltip  for a description of the page.
Viewing Student Plans
Once a new Student Plan has been created, select the plan from the Teacher Dashboard or add the plan to the calendar view.
Choose the student picture on the Teacher Dashboard to view the student's schedule for the day.

Toggle to the Calendar view and select the box new to the student's name to add the student to the calendar.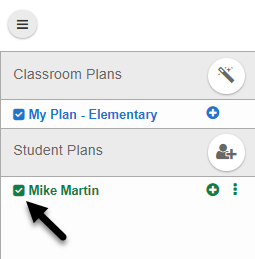 Student Login
To benefit fully from the individual Student Plan, Student Login should be used. The Unique Learning System Student Login feature gives students independent access to Student View within the classroom setting. The order of lesson and course activities mirrors the Student Plan.
For more information on setting up Student Login, visit our knowledge base article here.