Books from the n2y Library can now be assigned to students in student view. Service providers can choose from over 1,000 online library books including classroom books, trade books, library books, leveled books, or easy read books. They can search by topic, title, category, or reading level just as they can in the n2y Library.
Books Can be Assigned by Taking the Following Steps:
1. Select My Students from the menu.
2. Select a student.
3. Navigate to the Unique Learning System Settings section in the lower right-hand corner.
4. Select the Configure Student View Button.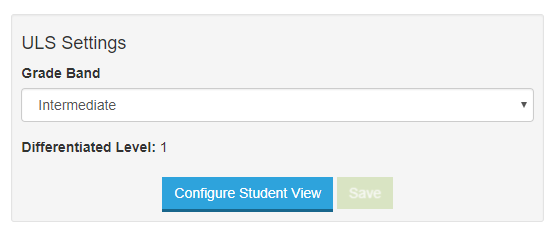 5. Select the Manage Library Books tab.
6.Use the search box or filters to locate the desired book and select set.
Books that have been set will be listed in the Student's Library Books section. This provides a quick list to reference what is available for that student in Student View. The books will remain in Student View until the service provider removes them by clicking the Remove button. Alternatively, a library book can be assigned to a content block in Teacher Dashboard. This will provide the book to all students who have access to that content block at once. The book will automatically be removed from Student View without further action from the teacher with this option. Directions to add a library book to a content block can be found here.
The books in the n2y Library can be used to extend or support the monthly unit topic or to provide additional reading material for students for self-selected reading. The Supplemental Reading List, located in the Monthly Lessons section of Unique Learning System, offers suggestions for books to support the monthly topic.

The Lesson At a Glance page of each lesson plan includes an Additional Materials section. This section may reference n2y Library books that can be used to support the lesson.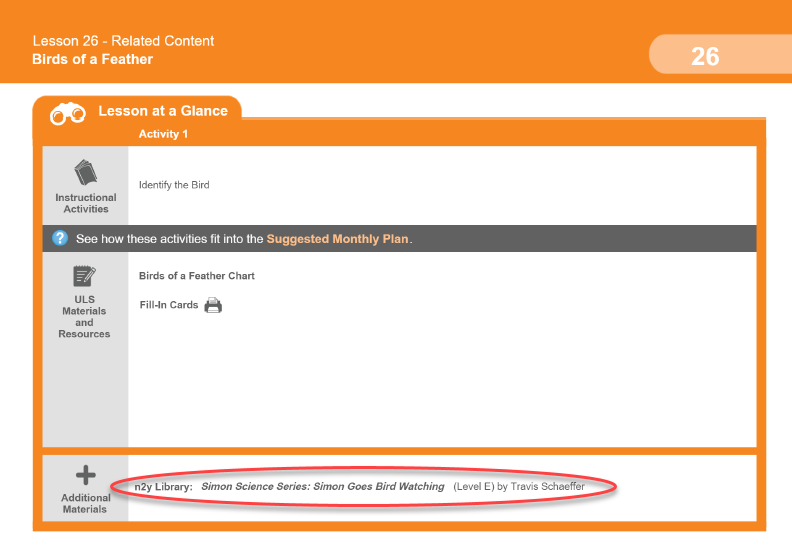 Self-selected reading opportunities based on interest are also included in the lesson plans. As essential learning experiences in the classroom, self-selected books give service provider a window into the interests, desires, and curiosities of learners who may not be able to articulate their choices by any other means.