When you sign in for the first time, you will be prompted to set up your schedule and your student roster. You can select to skip this step and be reminded to continue setup the next time you log in.
The setup wizard will guide you through entering your schedule, allowing you to choose from a weekly, bi-weekly or cyclical schedule type. Build your schedule quickly by dragging any of the pre-made subjects into your schedule list, including Other Schedule Items for blocking out time to play L3 Skills or to deliver weekly current events with News2you. You can also create custom events in your schedule and easily change the label to customize it. Add times to each of your events - and just like that - your schedule is created!
Within Unique Learning System, the Classroom Schedule unlocks the following features:
One convenient page to launch lessons from Unique Learning System.

Ability to quickly access and view state standards being addressed.

Opportunity to record daily observations on students.

Exportable lesson plans that list the standards addressed.
In Positivity, the Schedule must be completed in order to use the solution. The Schedule will be reflected on the Class Visual Schedule, which is the foundation of Positivity. Schedules are also used for the automated delivery of planned strategies and to provide context to incidents and other recorded data.
Individual student schedules are optional and can be used as a method to tailor the experience to a student if the student's schedule or content needs are significantly different (e.g., the student is in inclusion and requires lesson assignments that differ from classmates.). Additional Positivity display options can be adjusted by editing a schedule.
Create a schedule by following these steps:
Select My Schedules from the My Account menu.



Select Next.

Select how often your schedule repeats.
If you select Biweekly, you will be asked to select the first Monday that your schedule starts.

If you select the option to be repeated every x amount of days, you will have the option to name your days.
Select Continue.
Drag and drop events from the left-hand column to the Schedule List on the right.
Please note that Math and Reading/Language Arts will appear by default. Hover over the subject for a trash can icon to appear to delete if desired.
Pro Tip: Be sure to select the subject that best matches the content you will be teaching during that time. You can rename it later.
Reorder subjects as needed.
Use the trash can icon to remove items as needed.
Use the Add Custom button to add custom items not found in the left-hand column.
Please note that custom items do not auto-generate content.
Select the day(s) the item should appear on the schedule.


Select Continue when all items are correct.
Set start and end times for each subject.
Pro-Tip: Select the Apply to All button when the subject is taught at the same time each day.
Select the Next button as needed to add all times.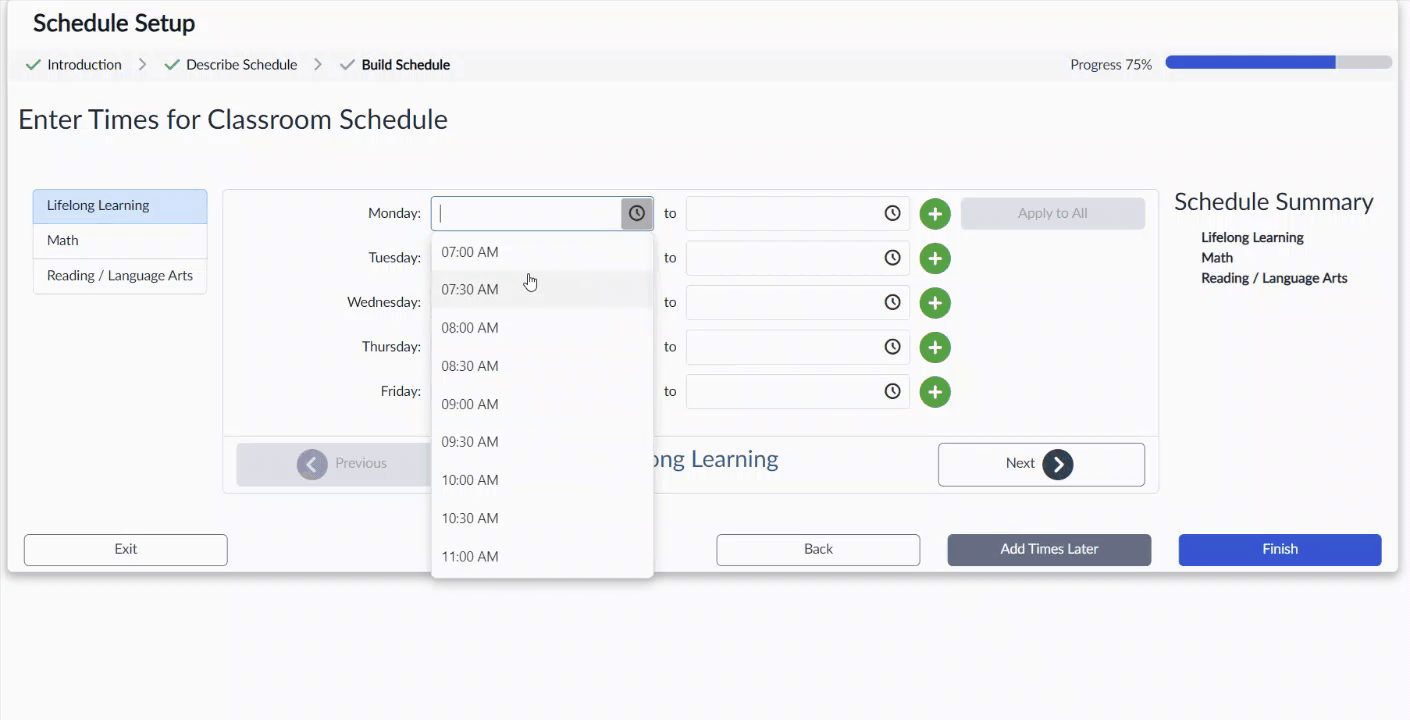 Select Finish.

You will be prompted to create your My Plan on the Unique Learning System Teacher Dashboard or to customize your Visual Schedule in Positivity after completing this step.
To edit a schedule:
Select My Schedules from the My Account menu.



Select the desired student (only applicable if editing an individual student schedule).

Select the

Edit Selected Schedule button.

Reorder subjects as desired by dragging and dropping items in the left-hand column. Please note that this does alter the times or appearance on your schedule.

Select a schedule item to adjust subject area, name, days or start and end times.

Select the Add New Event button

to add an additional schedule item if desired.

Select Delete and Confirm to remove a schedule item if desired.

Select Show in the upper right-hand corner by the Positivity heading to adjust the image, symbol, skin tone (if applicable), text color, background spoken text and alerts for the Visual Schedule (applicable to Positivity users only).

Select Save after adjusting each schedule item.
Please note that after editing your schedule you will be prompted to delete your My Plan to create a new one and/or 'copy to today' in Positivity in order to see your changes reflected immediately.