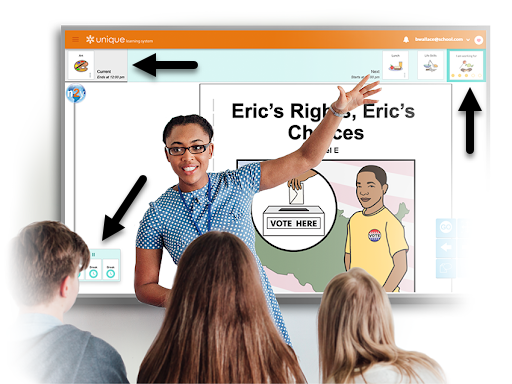 Strategies are delivered digitally inside of n2y.com. Custom strategies set up on the Classroom Schedule will be delivered via both the service provider login and student login for any student who does not have an Individual Student Schedule. Students with an individual schedule will only see the custom strategies set up for their schedule in Student View.
Schedules can be customized to be Time-Based or On Demand.
All events on the schedule must have times to view in Time-Based mode.

Time-Based schedules will start and end events on the Visual Schedule based on the time of day. They can be manually adjusted quickly by the service provider using the

flexible schedule options

.

Strategies will be automatically delivered based on time.

On Demand schedules require events on the Visual Schedule to be started and finished manually. This can be done through Student View for a remote learning friendly option.
Strategies will automatically deliver based on these events on the Visual Schedule.
To Set Up a Custom Strategy to be Delivered:
Select the menu in the upper left-hand corner.

Select Visual Schedules.




Select the Visual Schedule you wish to add a Strategy to.

Locate the Activity on the left-hand side you wish to add a Strategy to.

Select the + Existing Strategy button.

Select the Strategy that you would like to add.




Select the desired settings for that Strategy.

Select Next.

Select the Save button.
Please note that not all Strategies require this setup. The Visual Schedule is delivered automatically after schedule setup is complete. The Breath Strategy setup occurs during delivery via the on-demand button controlled by the service provider.
.