Creating a simplified password will allow service providers to place a login link on a computer or device that a student can open for independent access to their Student View. Students must have 'student login' enabled to gain access to the monthly lessons in Student View. Teachers can enable student login for an individual student, or all of their students at once.
Step 1: Enable student logins for a single student:
Navigate to the My Students section in My Account using the menu in the upper left-hand corner.

Select the desired student.

Select Show in the Login Settings.

Set Login Settings to Simplified Password.
Type a password in the Enter Password box.
Retype the same password in the Confirm Password box.
Select the Set New Password button.

To enable student logins for multiple or all students:
Select multiple students by selecting a student and then checking the box below each avatar.

Select all students by choosing the Select All Owned Students button.

To create random passwords for each student, select Auto-Generate Password and then select the Enable Text Password For Selected Students button. n2y recommends taking a screenshot or otherwise noting the passwords for each student during this step.

To create individual passwords for each student, toggle off Auto-Generate Password and enter a password for each student.

Step 2: Setting up student logins on devices
Service Providers need to create a link custom to their classroom for student logins. A shortcut can be added to the desktop or homepage of each device.

To create a link:
Navigate to the My Students section in My Account using the menu in the upper left-hand corner.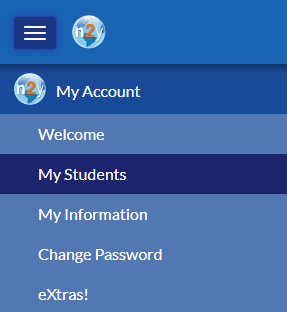 Select the Classroom Login Links at the top of the page.

Select the Add New Link button.

Newly created, as well as previously generated links will appear in the Student Login Links section. Follow the instructions on the Your Student Login Link window to copy the link, view directions to make a shortcut or delete the link.

Note that classroom login links expire one year after creation. New links are required each year for every device that uses student login links.
Step 3: Logging in with students
Once a link has been added to a device, student sign-in is simple. Note that service provider must be logged out of n2y.com before students can log in.
Students can log in by completing the following steps:
Select the shortcut.

Select the student.

Enter the student's password and select Sign In.

Students will now be able to access their student view.