From the SymbolStix PRIME menu, select Search to browse through the entire SymbolStix PRIME collection. You can search for symbols based on keywords or actions.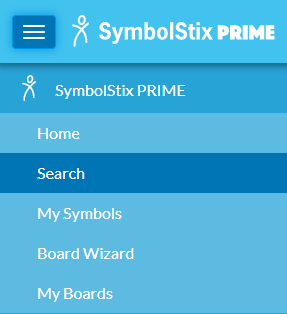 Select a skin tone if desired, and enter the search term for symbols you would like to find. The search results include suggestions based on your typing and can even take a guess at what you are looking for, in case you misspell a word.

Select the arrow to show the search settings. Customize the search by choosing to show adult symbols. Changing the locale supports symbol searches in many other languages.
From the symbol results, select a symbol to bring up the preview, tags, and options to save to My Symbols, My Collections, or download a png image of the symbol.