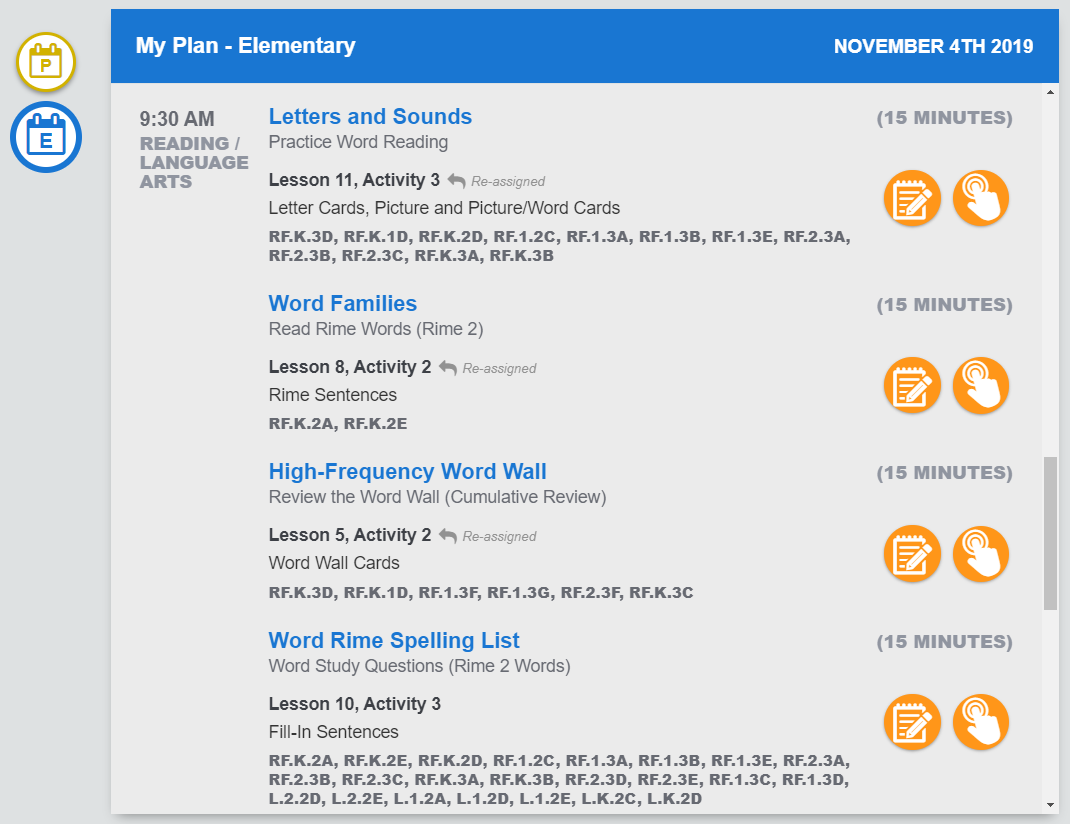 Once a recurring schedule is created through the Wizard setup, the lesson content for each day will display in the My Plan section of the Teacher Dashboard. If you've added individual student plans, or have access to multiple grade bands, select them from the list. Student View will automatically display the content from the plan.
Each entry in My Plan contains content for the subject that was selected when configuring the schedule. Each entry will display a title and a short description of what will be accomplished in the lesson.
Select from the action icons to open lesson plans and activities.
Launch PDF materials.
Launch iDoc lesson plans.

Use Lesson Plans to prepare for class and view the standards addressed throughout the lesson.

Launch an activity for preparation or presentation purposes or as group work.

The lesson plans indicate which activities should be presented as a group or as individual practice.
Student View
For independent unique learners access use Student View. The schedule and materials you set through Teacher Dashboard will automatically sync to Student View in the order that the unique learner should complete each activity for that day. Plus, student daily performance will be tracked through student view!
Click the links for more information on student login and configuring student view.
Edit Monthly Plans

The Edit Monthly Plans view offers a comprehensive overview of your week and can be used to add additional content or make edits quickly. If managing multiple student schedules, this view will allow edits to be made to these individually.
Click here for more information on editing your My Plan.
Individual Student Plans
Create individualized plans for students who have schedules that are drastically different than your own. Student Plans can be created for unique learners who have different IEP goals and join different classrooms throughout the day.
Click here for more information on creating an Individual Student Plan.