A selection of Professional Learning options require users to submit screenshots or video recordings in order to complete the course. Assignments will be listed in the right-hand menu throughout the course.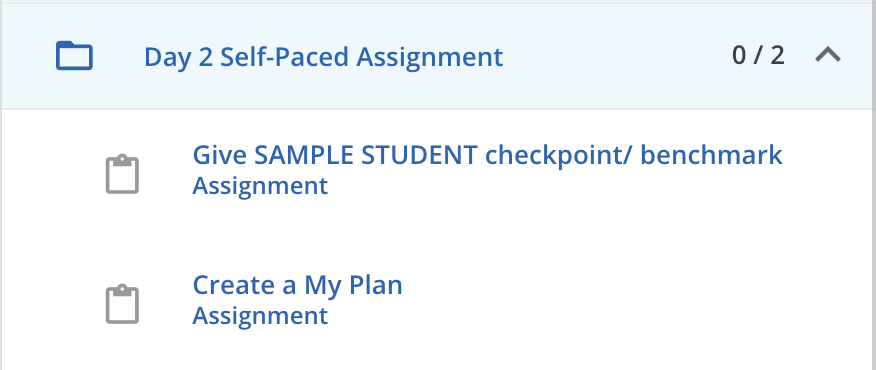 How to Submit an Assignment:
Select the assignment from the menu.

Upload your screenshot via your preferred method (further directions for each method are below).

Add a name.

Add a description (optional).

Select Submit Assignment.
You will see three available upload options. We strongly recommend Option 1 (Drop your file here or browse) by simply taking a screenshot and uploading the file to complete your assignment.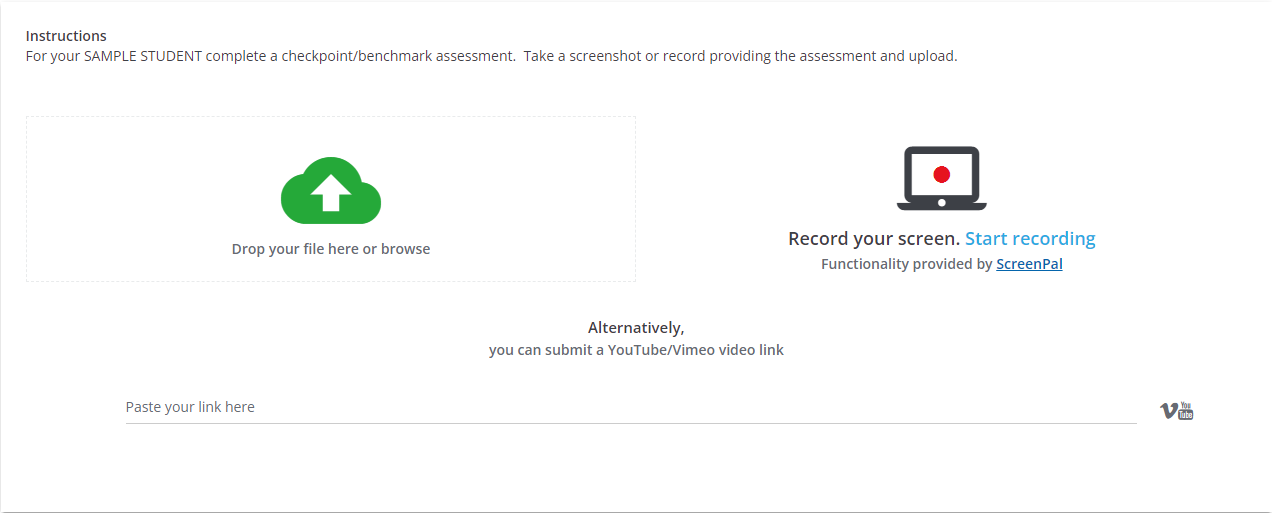 Directions for submitting your assignment by all three methods follow.
1. Screenshots


Screenshots are images of what is currently being displayed on your screen that are taken by the device itself. Directions on how to take a screenshot will vary by device, operating system, and potentially third party software available on your system. Your IT team is best suited to provide directions specific to your individual setup. However, general directions can be found by searching for "how to take a screenshot on" and the name of your device and operating system. For example "how to take a screenshot on a computer with Windows 10". Your operating system can be quickly determined by visiting https://www.whatismybrowser.com/.
Once you have taken and saved a screenshot you can simply click and drag or select the "drop your file here or browse" section to add your file.
2. Screen Recording
The Professional Learning section has a built-in screen recording tool that can be downloaded to document the completion of assignments. Please note that this feature is only supported by Chrome, Safari, and Firefox web browsers, and is not supported by the Chrome Operating System (including Chromebooks).
To use this feature, start by selecting the "download launcher" link in blue to download the software.
Please note that the ability to complete this action may be restricted by your IT team. Videos will not be available to be downloaded after upload. They can only be sent to n2y via the Professional Learning assignment.
3. YouTube and Vimeo Links

For service providers who are already utilizing YouTube or Vimeo, a link to a video can be quickly uploaded. Please note that n2y does not provide access to YouTube or Vimeo Accounts.
File types that may be uploaded include: PPT, PPTX, Zip File or Archive, PDF, JPG, DOC, DOCX, TXT, XLS, XML, CSV, .ODS, MP4, YouTube Videos, Vimeo Videos, Wistia Videos, and MP3.
Please note that only one file may be uploaded per assignment. Your assignment will be marked as "in progress" until the instructor has reviewed the assignment.