Sample Classroom for Administrators and Sub-Administrators
Who: Administrators and Sub-Administrators
Educational leadership using n2y solutions can create a sample classroom through the Unique Learning System administrator tool. By creating a sample classroom, administrators can experience their purchased n2y solutions as their teachers or service providers experience them.* This feature allows leadership and support staff to guide the adoption, implementation, training, and success of the n2y solutions in their classrooms.
A sample classroom includes:
Access to any of the n2y solutions purchased by the district or educational organization

A pre-made sample schedule and My Plan

Three sample students at various grade levels and differentiated levels (sample reporting included)

Ability to navigate and perform most of the same actions as a teacher or service provider throughout the solutions (administrators and sub-administrators cannot create or seat real students without a paid license)
How to Create a Sample Classroom:
1. Log in to n2y.com as an administrator or sub-administrator.
2. From the administrator menu, select "Manage Sample Classroom."
3. Click Create.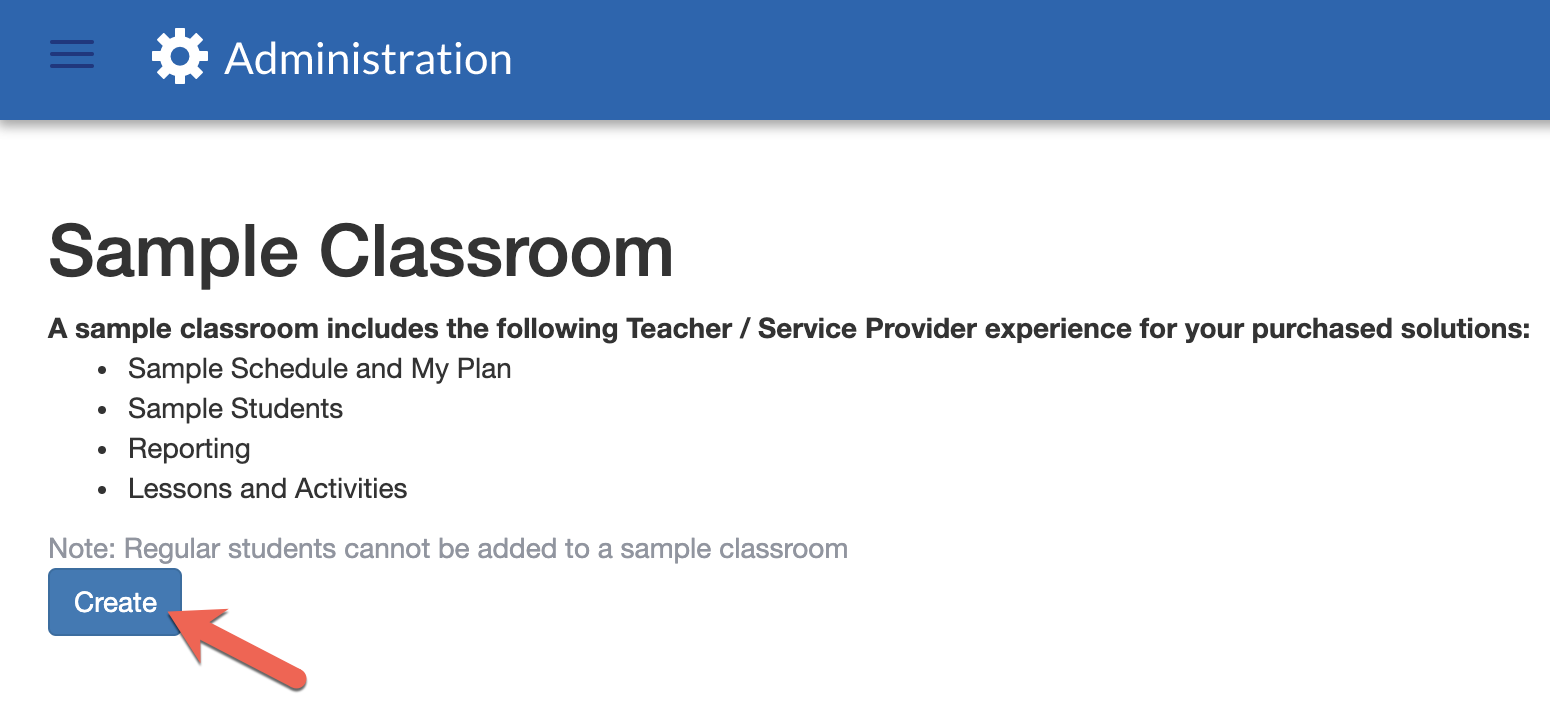 4. You'll be redirected to the landing page, where you will now see solutions highlighted for you to experience as a teacher or service provider.
Sample Students
Three sample students, one for each differentiated level (1, 2, 3) are automatically created and added to the My Students area in the sample classroom. Administrators can create additional sample students, however, non-sample students cannot be created or seated in any applications the administrator does not have a license for.
How to View and Create Sample Students:
1. Navigate to the My Students area.
2. View three pre-made sample students in your roster.
3. Select Add Student > Create Sample Student to add additional students to your roster.
4. Enable a student login for your sample students to experience the student's view.
Sample Schedule & My Plan
A sample schedule and My Plan automatically appear for the administrator if they did not already have one created. Administrators can edit or re-create their schedule and My Plans if desired. The content and grade band access included for Administrators is based on the grade bands of the reporting teachers.
How to View and Create Sample Schedule and My Plan:
1. Navigate to My Schedules from the main menu.
2. View/edit your classroom schedule.
3. Navigate to the Teacher Dashboard (Unique Learning System - Home).
4. View/edit your classroom My Plan.



Navigating Throughout n2y Solutions
Navigate throughout the n2y solutions within the Sample Classroom by using the menu in the top left corner. For additional support on getting started with n2y solutions, visit the following help articles:
*Solutions must be in the same subscription group in order for administrators and sub-administrators to access.