Events that occur Next can be cancelled, started, or swapped.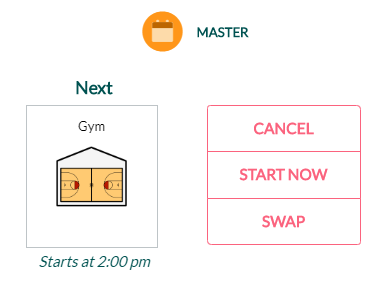 Selecting Cancel removes the next event from your schedule. The following event moves into the next position on the Visual Schedule.
Selecting Start Now ends the current event and begins the next event. The event will remain current for the number of minutes it was originally allotted. A gap for any remaining time will immediately follow. For example, an event that was scheduled from 9:00 am to 9:30 am, and starts at 8:55 am, will last still last for 30 minutes and end at 9:25 am. A five minute gap will occur at the end of the event before the next event. If this is not the desired intention, you can extend the current event to fill the gap.
Selecting swap will cause the next event and the following event to switch places. They will be available for the same amount of time as originally indicated, just occurring in a different order.